Some recipes are just too good to lose.
Meredith asked for these cookies last week and I couldn't find
the recipe. 

  I was sure I had posted it here, somewhere, in the
archives.  But no.  I hadn't.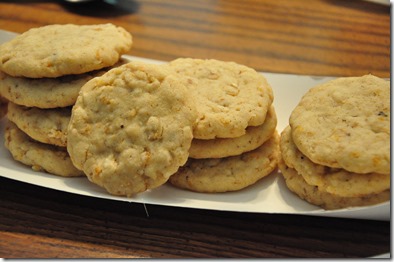 These really are the best oat cookies I've ever had.
The recipe however is hard for some people to see.
Once they've eaten the cookies they can overlook the amount of shortening
in them, but – well- see for yourself. And this makes over 9 dozen cookies.
Ingredients:
1 cup butter
1 cup sugar (white, granulated)
1 cup brown sugar
1 cup vegetable oil
1 tsp vanilla
3 1/2 cups AP flour
1 tsp baking soda
1/2 tsp salt
1 cup oatmeal
1 cup crushed corn flakes
1/2 cup coconut
1/2 cup nuts, chopped fine
Method:
Mix together butter and sugars until all sugar is incorporated into butter, add
oil and vanilla.  Beat together well, until fluffy, they add dry ingredients, stirring
together until you have a solid dough.  Make into 1 inch balls and flatten with fork,
I round up the edges to keep them from looking raggedy with the coconut.
Bake in preheated oven at 325 F for about 15 minutes or until lightly browned.
Then leave on baking sheet for a couple of minutes before moving them to a
cooling rack.
At this point they are delicious and crunchy- but then I dip them in white chocolate
and sprinkle with chopped nuts.  So good- these are hard to keep in the cookie jar!