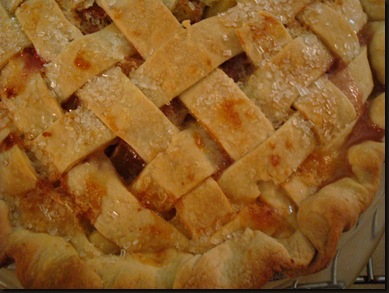 I've had plain rhubarb pie.
I've had strawberry-rhubarb pie.
And they are really good.
But rhubarb custard pie is what I think of when you mention rhubarb pie to me.
My mother always made it with the custard- and it is perfect for a foil to the strong flavor of the rhubarb. The tart flavor of rhubarb is tamed or modified by the sweet custard and you have perfection sitting on your plate.
It can be made without a top layer, since you already have the custard going on, but I like the look of a loose lattice top crust with the bubbly rhubarb pink juices staining the crust and gourmet sugar twinkling on top.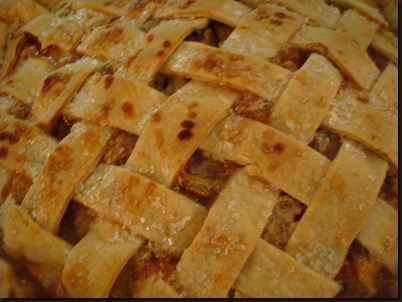 Twinkle * Twinkle * Twinkle * Twinkle* Twinkle*
This is really a simple pie to make and it brings back accolades of praise and happiness in your family. Try it- you will love it.
Ingredients:
1 1/2 cups sugar
1/4 cup flour
dash salt
1/4 tsp. nutmeg
3 eggs, beaten
4 cups 1″ slices of rhubarb
1 TBS butter
pastry for double crust pie **
Roll out pastry for bottom and fit into pie plate. I use a glass pie pan because it gives you a good indication of the even browning on the bottom crust.
Mix together sugar, flour, salt and nutmeg and stir into rhubarb until it is well coated. Pour beaten eggs over mixture and stir well.
Pour mixture into pie plate- I like to make two smaller, thinner pies- but this will make one large deep dish pie.
Dot butter over the top of pie.
Roll out second crust (top) and cut into strips and lay them on top of pie, weaving them into a lattice.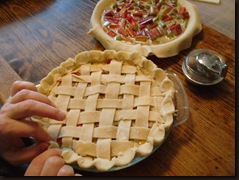 Over and under, gently lifting up the pastry slices to form loosely woven top crust.
Then sprinkle with large gourmet sugar crystals and bake for 50 minutes at 400 degrees F.
I cover the crust with aluminum foil for the first 4o minutes so the crust doesn't get too brown, taking the foil off for the last 10 minutes brings it to a lovely golden brown.
**Double crust pie dough
2 1/2 cups pastry or AP flour
1 cup cold butter
1/2 tsp salt
1/4 to 1/2 cup ice cold water
Using either a pastry blender or food processor, work butter into flour and salt mixture until it is well distributed and looks more like the texture of meal. Add water and gently mix together until it becomes a ball. Divide in half and press lightly into a disk and then place in a bag and refrigerate for at least 30 minutes.
The custard will form whilst the pie is baking and will be a rich and wonderful base to the tart rhubarb. This recipe has been in my family for at least the past 60 years and this pie never fails to bring smiles of happiness to every face.
Enjoy!