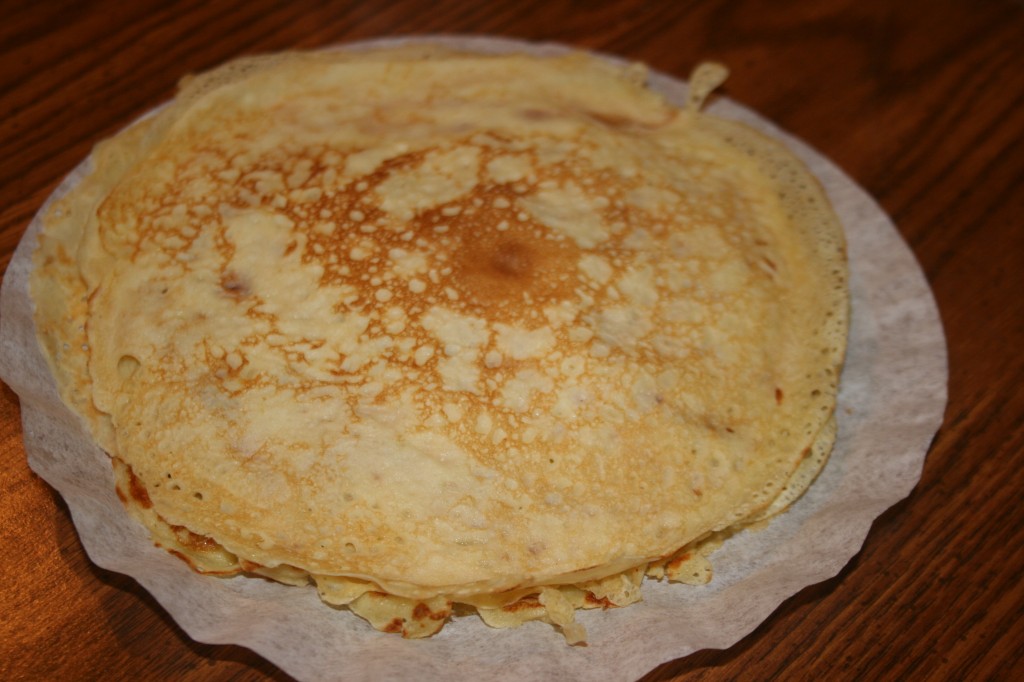 Yesterday, Jordan and I made two batches of these lovely little pancakes!  About 55 of them- we only ate about 8 of them- the rest are going to a diversification meeting at his workplace.  That is why HE made the second batch and cooked them himself.  I love this wonderful delicious treat- but making them by yourself is tedious.  So making them with him was a lot of fun and good times.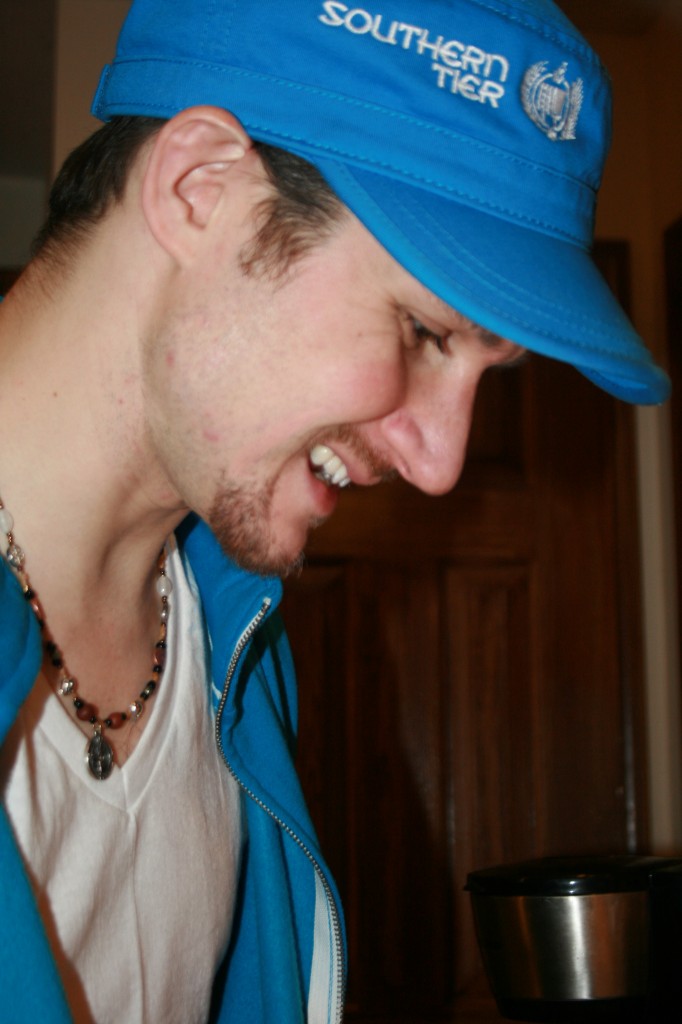 He had a good time, as well- even though I gave him a hard time about his first couple of tries and made him eat them rather than allow them into our pile of possibles for the dinner.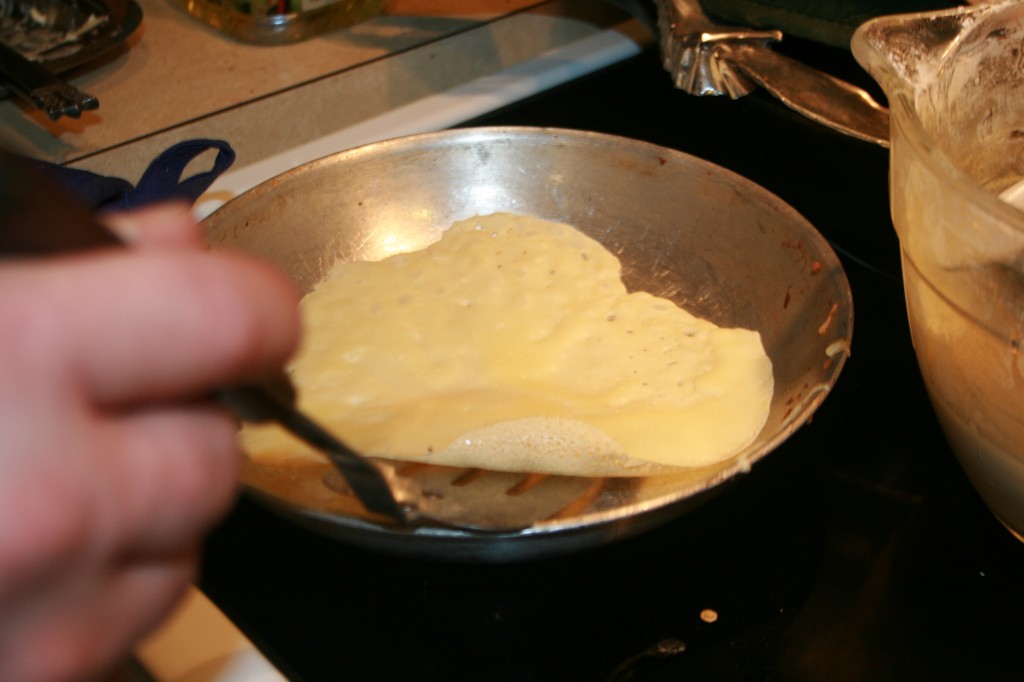 Here's the recipe
Ingredients:
3 whole eggs, beaten
1 cup milk, scalded, cooled
1 1/4 cup AP flour
1 tsp sugar
pinch of salt
1 cup of carbonated water(club soda)
Method:
add sugar and salt to eggs and beat up again.  Add small amount of milk to eggs, whisk, then add rest of milk and whisk until smooth.  Add flour- whisking continuously – about !/4 cup at a time, until batter is smooth .  Then add the club soda and mix together until smooth and slightly bubbly.
Heat up crepe pan until hot – water skidding across surface when you place a drop or two into the pan.  Drop a small pellet of butter- less than 1/4 tsp – into pan and turn to coat bottom, immediately  pour a little less than 1/3 cup of batter and turn skillet around to coat the bottom forming a thin pancake.  Allow to cook for about 45 seconds to a minute- the top of pancake should appear dry and then turn it over and cook another 45 seconds or so.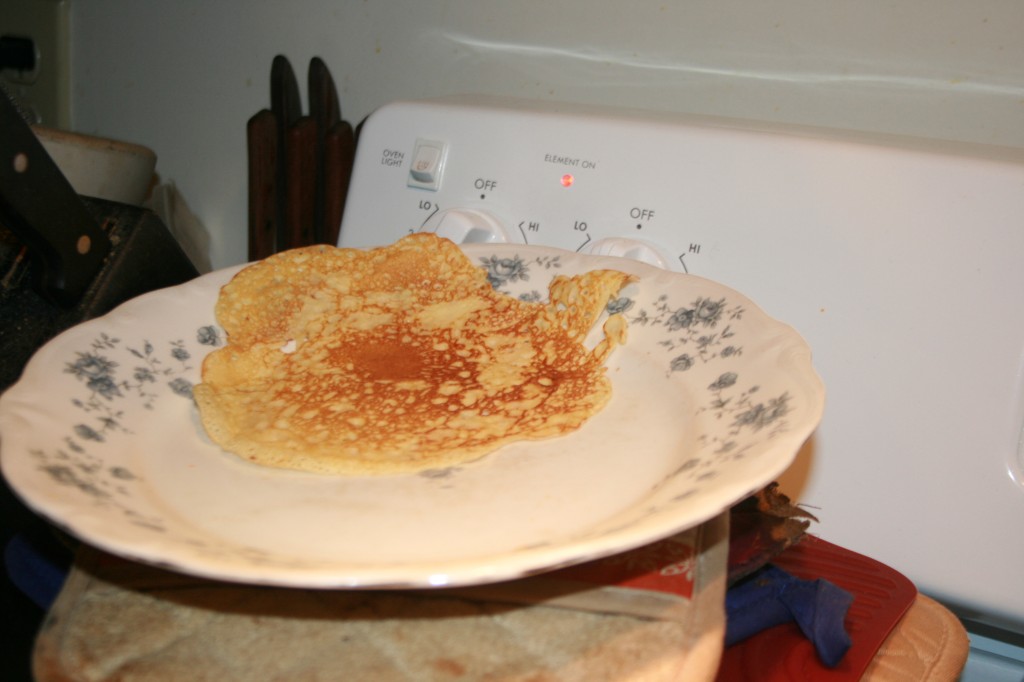 Spread with nutella, or creamed cottage cheese mixed with honey , or whatever you prefer in the center and roll up.  Then top with syrup or fruit or just confectioner's sugar.
And enjoy!