Growing up in a large family gives one perspective.  I am number 6 of seven children.
I saw relationships at work all around me- sibling, parental, partner, gender- there was
always something going on.  And because I was so much younger than my older sibs- I often
had the opportunity to watch them go through many of the trials and changes in life and learn
from their mistakes and wise choices.  I saw rivalries and teamwork, watched them work out
strategies and winced at some of the colossal fails.    But I also watched my parents and took careful
note of their relationship.  
My father loved my mother absolutely.  Even when she was at her most contrary- he adored her.
He would not always understand her- but he was in her corner as her greatest advocate.  His instruction
to me was invariably " Mind your mother" .
  My parents owned a greenhouse, but my father also worked a full time job, so a lot of the work and
responsibility of running the greenhouse fell to my mother and my older brothers.  My mom was a florist
and made bouquets and corsages, funeral baskets and grave blankets- and she would transplant all the
seedlings in the winter and spring.  My father had a transplanting area set up for her in the back of the
commercial greenhouse- in an alcove between the little greenhouse where he kept his special plants and
the service room that housed the pots and flats and heaters and other paraphernalia that kept the business
running efficiently.
It was very much her area- the bench at the right height for her to plant without too much bending- a chair to
ease her back- foam mats (always encrusted with soil) and lighting right above her station for the times when
she had to plant into the night to keep up with the season.  The greenhouse was where their partnership showed
the most to me- they worked together to make it a success.
So- when my husband called me into the front yard the other day and showed me this-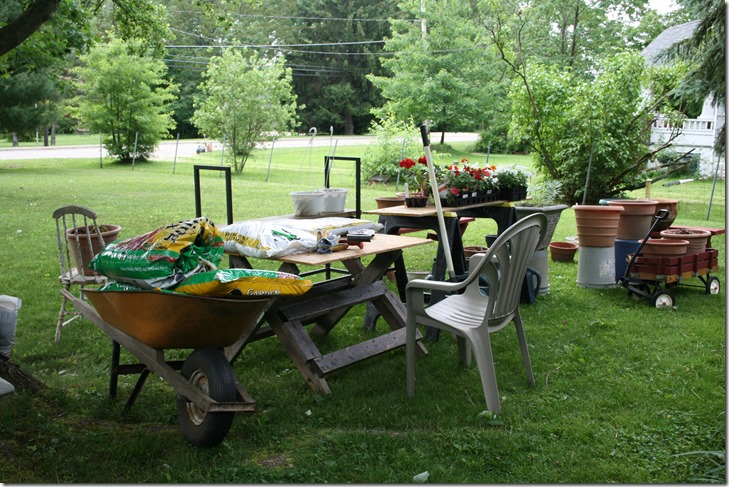 a planting station that he set up for me- it spoke to me of his love for me.
He didn't really understand why I broke into tears- or why I kissed him so ferociously- but he was pleased that I was happy!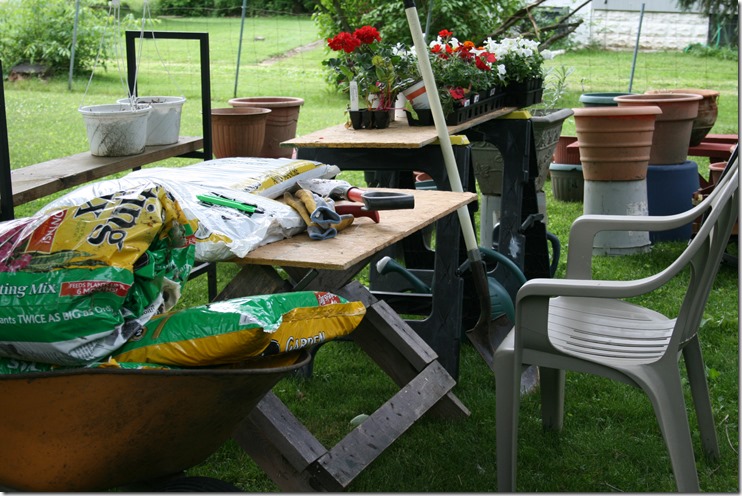 My love language from my childhood  eye-  he provided a safe and comfortable space to plant the containers for our yard.
I planted up 14 different containers, my hands busy, my heart full, humming a happy little tune. 
Because I felt so loved.