Recipe #1
Lavender Cookies
Ingredients
2 teaspoons culinary lavender flowers
2 cups all-purpose flour
11/2 teaspoons baking powder
1 pinch of salt
6 tablespoons butter
1/3 cup shortening
3/4 cup sugar
1 egg
1 tablespoon milk
1 teaspoon vanilla
Instructions
Pre-heat oven to 375ºF.
Stir together flour, baking powder and a pinch of salt. Set aside.
Beat butter and shortening for 30 to 60 seconds. Add sugar and lavender buds. Beat till fluffy. Beat in egg,
milk and vanilla. Add the dry ingredients to the mixture. Beat until well-combined.
Drop teaspoonfuls of dough onto an ungreased cookie
sheet about 2 inches apart. Bake for about 10 minutes or until golden-brown. Serve with hot tea.
………………………………………………………………………………………………………..
Sorry – no picture to go with that one. It is too hot to bake in the oven, today.
And I have heard some people say recently that eating lavender was not appealing to them. So, I didn't want to push the matter, but I thought I'd look into the use and cultivation of culinary lavender. And I think it may be that all culinary lavender is not equal.
In order for lavender to be sold for culinary purposes, it has to be grown as an agricultural crop- (human safe insecticides and fertilizers, etc) and it has to be harvested and processed differently than lavender used for aromatic purposes.
That is all well and good ( and expensive)- but I wanted to come up with my own harvested culinary lavender, and that is where I discovered some things on my own.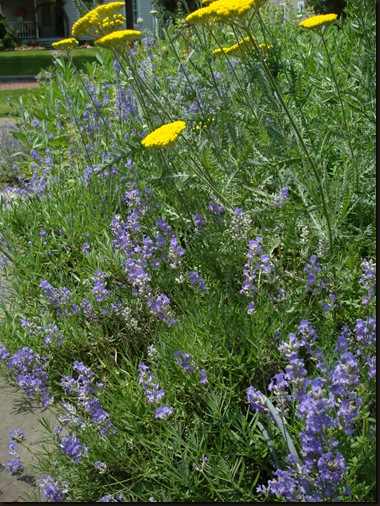 Lavender grown in your own hedge or bed is acceptable for culinary use.
As long as you don't treat it with insecticides or sprays. And it is in the harvesting that the distinct difference can be seen.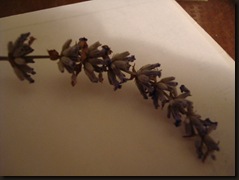 dried stem of lavender
As you can see from this single stem above, there are several components to the lavender flower. The head or spike above contains many flowers or corollas. In order to use the flowers without overpowering your recipe, you must remove the flower from the calyx.
lavender florets or corollas
Once separated, save the calyx for use in sachets or potpourris-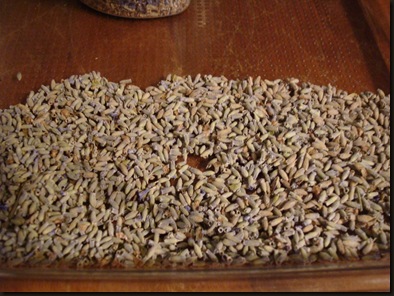 this is painstaking and patient work- I found doing it when my husband watched baseball worked for me- it takes about as long as a baseball game lasts to get more than a few tablespoons of usable lavender flowers.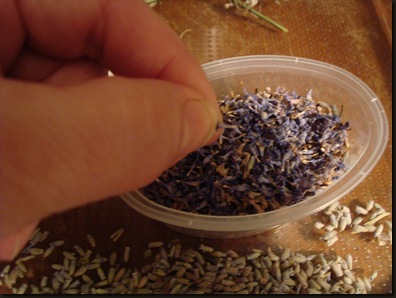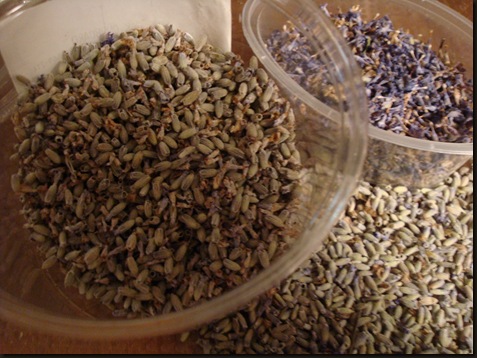 flowers and calyx- calyx alone- flower or corolla
Look at the difference in just appearance. The scent is mainly contained in the calyx and the flowers fragrance is much more subtle. The flowers also have the bluest appearance of the three.
I also crystalized some of the fresh flowers. I usually do violets in the spring, so I thought it wouldn't be too difficult to adapt that process to lavender florets.
HAH!!
It was ridiculously hard. I managed to get eight florets done in a half an hour.

separating the florets-

preparing the egg white-

processing the sugar to be super-fine-

tweezering the florets-

painting outside and inside with egg wash-

coating with sugar-

drying and baking the florets
in a cool oven-
(sorry, I forgot to take a picture of the baking stage! 🙂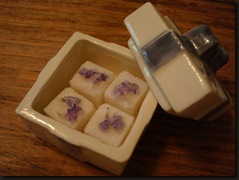 and finally attaching to sugar cubes for a decorative effect.
Here is my second recipe.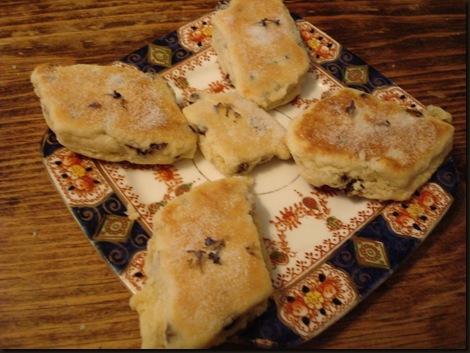 Welsh Scones with lavender and currants
Ingredients:
8oz. (1 cup) self rising flour
4 oz. (1 stick) butter, cold
pinch of sea salt
4 oz. (1/2 cup) dried currants
1 tsp. lavender,culinary, flowers only
2 TBS. fine sugar
1 egg
1 TBS buttermilk
more sugar for the topping.
Cut butter into flour until looks like corn meal-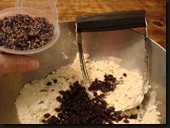 add salt, currants, lavender, and sugar.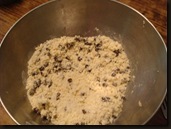 Stir so that currants are coated with flour and not in clumps.
Add egg and buttermilk and stir gently, until completely moistened.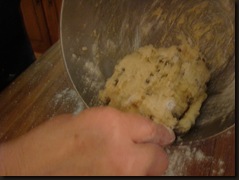 Dump out onto pastry board and pat gently into a 9 x12 rectangle and cut into diamond shapes.
Then put onto a medium hot griddle and cook until slightly browned on one side.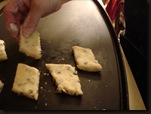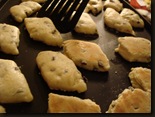 Turn over and cook on the other side, sprinkling a little sugar on top.
These are so light and delicious!
Very More-ish as my friend, Celia, says!
I think the flour is just there to hold the butter into an edible shape, really!
These have been called Welsh Scones, Griddle cakes, and Singin' Hinnies-
I call them magnificent.
I've never had a scone that topped these for lightness or flavor.
You can leave out the lavender if you like, but make these scones.
You won't be sorry.