This is to go into the chilled melon soup.  I decided the soup would be great with a salsa mixed into a swirl of yogurt just before serving.
So I have to make the salsa first.
Cherry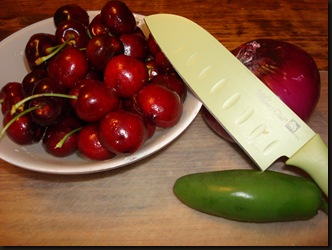 Salsa
Dark cherries are coming in season.
Serves 6 – from Cooking Light
1/2
pound
dark sweet cherries, pitted and coarsely chopped
1
Tbl
lime juice
1/4
cup
cherry preserves
1
Tbl
red onion, minced
1
tsp
jalapeno pepper, seeds removed and finely chopped
1
Tbl
cilantro, chopped
METHOD:
Combine all ingredients in a bowl and blend.
Cover and chill 1 to 2 hours..
Can also be served with chips as an appetizer.