I'm only going to say this once.
I am dutifully ashamed of myself.
I bought lard.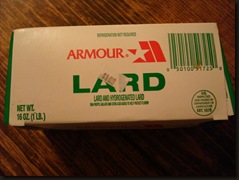 This was last year- and I got taken in on those stories about how flaky and wonderful pie dough is made from lard. I bought a pound and tried it.
The dough was flaky- but it tasted like LARD. There was no delicate buttery undertones- it tasted like … well it tasted… it tasted like LARD.
yuck.
So it has been sitting in my refrigerator as I try to figure out what to do with it.
I could have pitched it- but I don't like throwing stuff away.
Last night I finally figured out a use for it.
I used it in my cast iron pans to grease the bottom of cornbread I was making to go with the chili.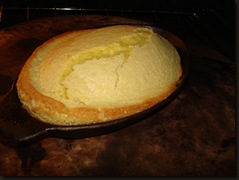 And it worked quite well.
But I'm NEVER buying it again.
Because while it does make very nice pie dough-
it still tastes like lard.