These are the brides…………………….and these are the grooms!
Aren't they cute? This is what I've been doing this weekend- making 56 pairs of this happy couple for a dear friend's son's wedding.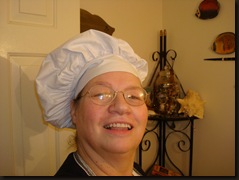 I put on my baker's hat and cut out and baked 112 gingerbread boys and girls-
and then I decorated them with three different chocolates.
The brides got all white chocolate- the grooms dark and milk chocolate-
and then I gussied them all up in bows and ribbons.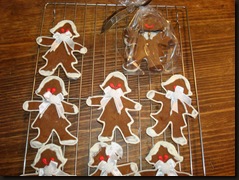 And packaged them in cellophane bags,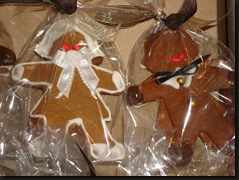 And tied them with black and gold ribbons and put them into a bakery box.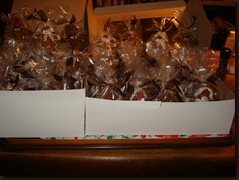 Actually – two bakery boxes.
Being a baker around holidays means that you don't have a lot of free time.
Tomorrow I'm making dozens of turkey dinner rolls for the Bake Shop.
You can find directions and a recipe for making the rolls here.