Not such a lot going on in my kitchen this month, yet.
I had my grandsons for a week while their parents went to
a coffee plantation in Nicaragua for a much needed break.
So – I spent a lot of time playing video games (mostly watching )
working on science observations with microscope and magnifying
glass- reading a large number of books, putting on boots, taking off
boots, keeping track of mittens, making lots of bacon dishes, and
basically trying to keep them happy to be with grandma while
Mommy and Daddy were gone.  Did I mention they were 3 and 5 years
old?    So the first item on my list is outside my kitchen-
on the deck…
where these two little sweeties were shoveling the snow off of for Grandpa!
In my kitchen…
Is this chair that I bought at a thrift store many years ago.  I love it- it is the right height
for a kitchen chair for me- it is perfect to sit at the counter and chop vegetables.  It is also
perfect for little boys to sit at the table.
So I haven't been able to use it the last week or so.  My youngest grandson thinks this
is HIS chair!
In my kitchen…
is this lovely set of wooden utensils.  I love treen ware- my niece bought these from
a man who makes them in his state of West Virginia.  I love them!
In my kitchen…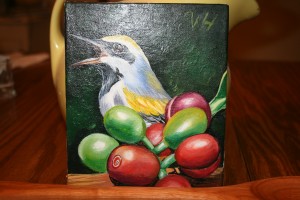 is this picture of a bird on a coffee bush and…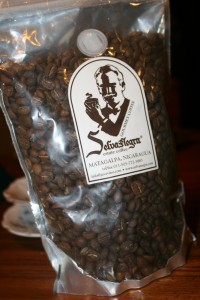 a bag of coffee from the plantation where my son and his wife stayed!
…
And in my kitchen…
And…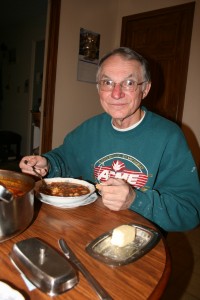 Beef stew- one of my husband's favorite
winter meals!
That is what is in my kitchen- what is in your kitchen this January 2014?
This is part of an on going series hosted by my friend Celia at Fig jam and lime cordial.   Take a look
at all the posts there this year!