I love coconut cake.
I love chocolate and yellow cakes, as well.
I love cake, period.
But coconut cake has such a clean edge to it- the flavor is permeated within the cake itself and then you have a bonus of toasted coconut on top, mmm!
But it is hard to find a homemade cake that has the right flavor and mouth feel.
I like the Sara Lee frozen coconut cake- but I wanted to make my own so I went to the recipe index on the internet and combined and played with the ingredients and amounts and came up with this winner!!!
Notice that there is no leavening agent in the ingredients- the eggs are used to raise  the crumb – and this is a rather dense cake- more like a pound cake than a sponge cake.
Ingredients:
1 cup soft butter
6 ounces soft cream cheese
6 eggs, separated
1  tsp vanilla extract
2 cups plain or A/P flour
1/3 cup coconut flour (if you can't find flour, put some in the food processor until it is quite fine
1/4 cup coconut milk
Method:
Preheat oven to 350 degrees F.  Grease a 9x 13 in. cake pan.
Cream sugar into cream cheese and butter.  Add yolks, one at a time, until batter is
smooth and light.  Whip egg whites until soft peaks form and set aside.
Add vanilla and mix well,  Add coconut milk, mix- then add plain and coconut flour and
mix well.  Fold egg whites into mixture – carefully- you want it well mixed but still with lots of air in the batter.  Gently scoop batter into greased pan and bake in pre-heated oven for 35 to 40 minutes.  The cake should raise slightly whilst baking and will be a little browned on the edges – check doneness by inserting a clean knife or toothpick in center- when it comes out clean, the cake is done.Allow to cool completely and then ice with cream cheese icing.
I used 1/2 cup butter
6 ounces cream cheese
1 tsp vanilla
2 cups 10x or confectioner's sugar
1/2 cup coconut flour
and beat it with a hand mixer until it was creamy
.Then topped the frosted cake with 1/2 cup toasted coconut.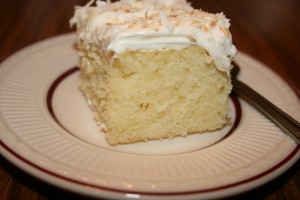 I think the icing was a little too thick, but Frank likes more icing than I do.  Half the recipe if your tastes run along with mine!