I remember my mother making pie in the summer
and autumn.  There was no time to make pies in the
winter or spring because she had to transplant all those
little seedlings all day long.
But in the late summer and early fall- there was pie!
One of my favorite was the elderberry pies she would bake.
Since there were 9 of us in our family – it was never just one pie
– there were always at least two- more likely 4 pies to make at
a time- and they would usually be gone within  a couple of days.
But the elderberry pies were magical for me.
Elderberries grew in our backyard- and we waited  until
they were
heavy and purple and then we picked them by the armful.
The berries as small as bb shot- and the flavor raw too intense to really
enjoy- we would roll the heads clean into a stainless steel bowl out on the
picnic table and when we finally got enough to make a pie- one of us little
girls would run them into the kitchen and empty them into a bigger bowl and
then we would start over filling the bowl.  It took 4 cups of elderberries to
make a pie and our thumbs and forefingers would turn purple as we deftly
took hold of a small branch of berries and rolled them off the tiny little
twigs holding them on.  We would have to keep those little twigs out of the
bowl- as well as the tiny spiders that were hanging out on those branches.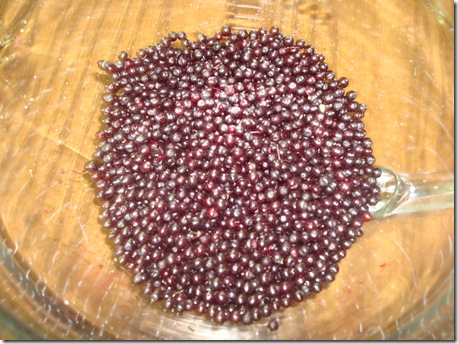 4 cups of elderberries, 1 cup of white sugar, 2-3 Tablespoons of lemon juice,
4 Tablespoons of cornstarch and a tiny bit of water cooked together until the
mixture boiled.  Then set aside to cool down.  Poured into a crust filled 9inch
pie plate, dotted with butter , lightly dusted with a teaspoon of cinnamon and
covered with a top crust.  Baked in a 375 degree F oven for 50 minutes until the
berries bubble up in the crust and it is all golden brown and purple.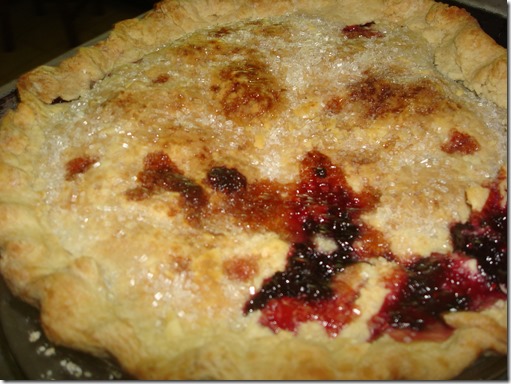 Elderberry pie.
Like my momma used to make.