I have been eating scones for a long time.
And personally, I like them better UK style.
And Australian style, too, for that matter.
Here in the United States, we have a tendency to add
stuff inside and make them more like a cookie.
We make scokies.  More like a sweet biscuit with
lots of fruit and chocolate inside.
Whereas in the UK, they are like a big fluffy American style,
but slightly sweet biscuits.
Actually- language fails me- it is all English- but we don't
have the same definitions- like for scones?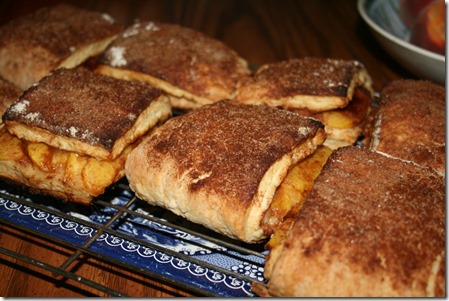 So- since I am an American I went with this scone- Peach Cobbler Scones.
They are light and kind of fluffy- sweet and cinnamon"y" and filled with peaches.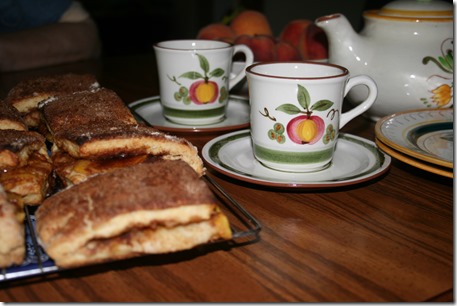 They went really well with a cup of Darjheeling tea.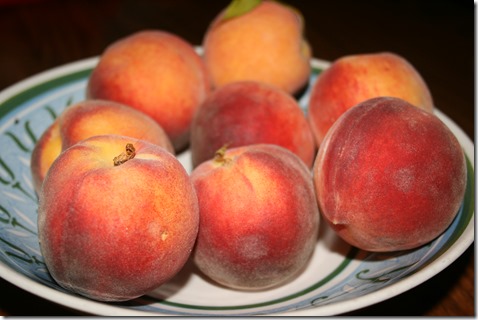 And the peaches I used were spectacular.
But I didn't like them as much as I do UK cream scones with jam and clotted cream.
So- here is the recipe- I got it off of Pinterest.
Peach Cobbler Scones
3 cups AP flour
1/4 c granulated sugar
3 tsp baking powder
1/2 tsp baking soda
2/3 tsp salt
1/2 c cold butter, chapped into small cubes
1/4 c shortening
1 egg, beaten
3/4 c cold buttermilk
1 tsp vanilla
1 peach or two peeled, sliced thin
Cinnamon sugar for sprinkling
Method.
Mix all dry ingredients together and cut in butter and shortening
until the butter is pea sized or smaller.
Make a well in the center of flour and pour liquid ingredients into it,
beating egg and milk together and adding flour from the sides of the
well until you have a soft dough.  Clump together with your hand gently
until all the flour is incorporated- do not knead- use more of a folding
technique.  Roll out to a large rectangle,  brush buttermilk or cream on
half of rectangle, sprinkle with cinnamon sugar, place the peaches on
the half lined up next to each other and sprinkle again.  Next fold the
other side over the peachy side and press lightly to seal.  Cut into 8 pieces,
using a spatula put the scones on a parchment paper on a  cookie sheet.
Brush tops with cream and sprinkle once again with cinnamon sugar.
Bake at 400 degrees F for 15-18 minutes
These are good served with peaches and cream(whipped) on top.