I've been making so much bread- didn't want you to think I've been
starving Frank's sweet tooth!
I made an almond pound cake with almond glaze yesterday.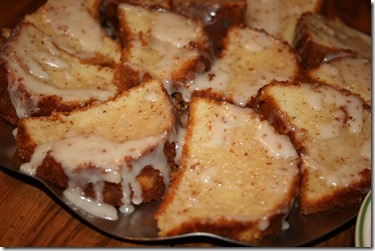 Here's the recipe-
For the  pound cake:
2 Sticks of Unsalted Butter, Softened
1 Package of Cream Cheese, Softened
½ cup Almond Cake & Pastry Filling
1  cup sugar
4 Eggs
1 tsp Vanilla
1 tsp Almond Extract
1 ½ cup AP Flour
½ cup Almond Meal
1 ½ tsp Baking Powder
1 tsp Salt
For the Almond Glaze:
2 cups Confectioners' Sugar, Sifted
¼ cup Almond Cake & Pastry Filling
6 TBS Milk
1 tsp Almond Extract
½ tsp Vanilla
Directions:
1. Preheat the oven to 325 degrees and spray a bundt pan with Pam, sprinkle flour and spread around pan by shaking it from crevice to crevice and then set aside.
2. In a mixer, cream together the butter, cream cheese, and almond filling. Pour in the sugar and mix until fluffy and smooth. Add the eggs, one at a time, mixing each one until it is incorporated before adding the next egg. Then add in the almond extract and vanilla extract.
3. While ingredients are mixing, whisk together the flour, almond meal, baking powder, and salt. Slowly add this flour mixture into the wet mixture. Mix until just incorporated.
4. Pour or spoon the batter into the prepared bundt pan and bake the cake for roughly an hour or until a toothpick inserted into the center comes out clean. Let the cake cool completely before pouring on the glaze.
I had a little trouble getting the cake OUT of the pan- finally ended up cutting into pieces and placing on a platter and then spooning the glaze over the slices.
5. To make the glaze: combine the confectioners' sugar, almond filling, milk, almond extract, and vanilla in a bowl and whisk until it is completely combined and smooth. Pour the glaze over the cooled cake. Let the glaze harden for 15-20 minutes before you cut and serve.