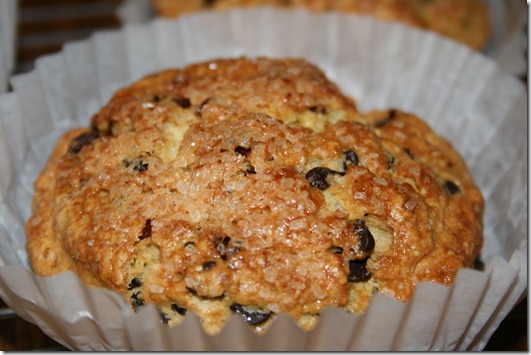 I got this recipe from my niece, Martha– and they are delicious.
Especially when paired with a Cardamom Blackberry Pavlova ( recipe later, after scone fortnight).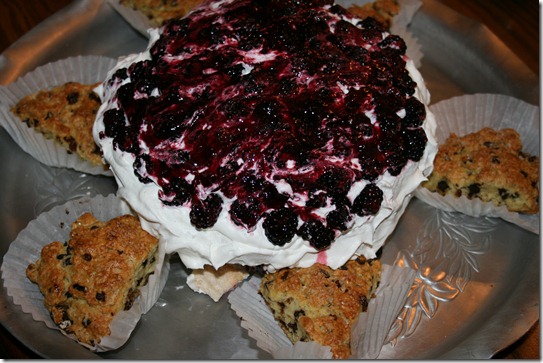 Here is her recipe-
Cherry-Chocolate Scones
2 1/2 c whole wheat pastry flour
1 c flour
1/4 c sugar
1/4 c brown sugar
1 tsp baking powder
1 tsp baking sodaFi
1/2 tsp salt
1 stick butter, cold
3/4 c dried cherries
3/4 c chocolate chips
1 egg
1 c buttermilk
2 tsp vanilla extract
milk and coarse sugar for the tops
Combine dry ingredients. Cut in butter. Add cherries and chocolate, stir with fork. Combine liquid
ingredients and whisk. Pour into dry ingredients and stir lightly with a fork till evenly moistened.
Knead two or three times on work surface. Separate into 2 balls, pat each lightly into an 8-inch circle,
cut into 8 wedges. Place on greased cookie sheet. Brush with milk and sprinkle with coarse sugar.
Bake at 375 20-25 minutes. Makes 16.
I didn't have any whole wheat pastry flour – so I used regular pastry flour.
These are really good-  and the recipe makes a LOT of scones!

I'm really enjoying the many different recipes and pictures of

scones from all over,  if you want to see the other recipes , Celia

has them up on her blog, Fig Jam and Lime Cordial.