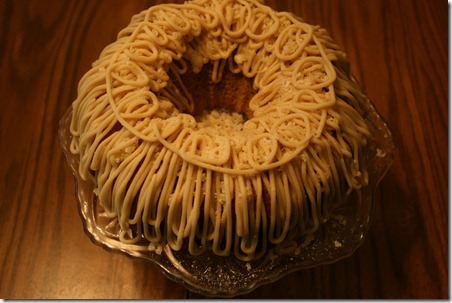 Caramel iced ginger cake.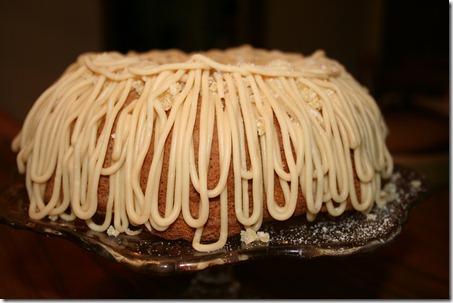 Topped with chopped sugared ginger morsels.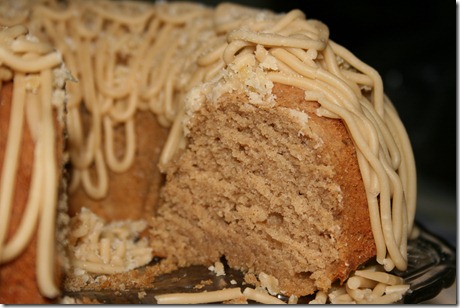 Moist and spicy – and GONE!
I saw a picture on Pinterest- looked for the recipe on Google- and made up a
cake to my own liking!
Recipe-
3/4 cup light brown sugar
1 1/4 cup AP flour
1/2 tsp baking soda
3/4 tsp baking powder
1/4 tsp salt
2 tsp ground ginger
1 tsp cinnamon
1/2 tsp ground nutmeg
3/4 cup butter- room temp.
2/3 cup buttermilk
Preheat oven to 350 degrees F
Spray a bundt pan (10 in.) with baking spray or butter and flour it.
Put butter and sugar in mixing bowl and beat together until smooth, add spices, and then alternate
the dry ingredients (whisk them together first) and the wet ingredients ( beat eggs, whisk in buttermilk)
until mixture is smooth and creamy looking – about 2 minutes on medium speed.
Pour or spoon into prepared pan and bake for 30-35 minutes- it will spring up when lightly touched or
you can stick it with a toothpick and it will come out clean.  Allow to cool in pan for 10-15 minutes and then
turn over onto a wire rack.  Cool completely.
Caramel Topping-
1/4 cup butter
1/2 cup light brown sugar
2 TBS milk
3/4 cup 10x- confectionary sugar
Put everything but the 10x sugar in pan and heat until sugar is dissolved- stirring . Bring to a boil , then reduce
heat and simmer- 2 minutes.  Remove from heat and whisk in 10x sugar until smooth.  Put into icing bag when almost
cool and cover top of cake.  Sprinkle chopped crystalized ginger on top.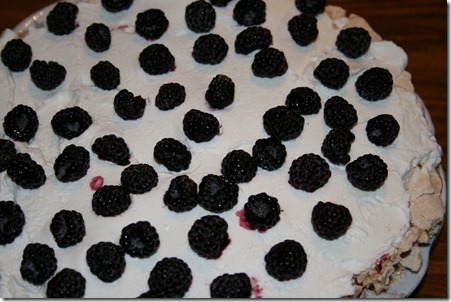 And a black raspberry Pavlova  So totally scrumptious!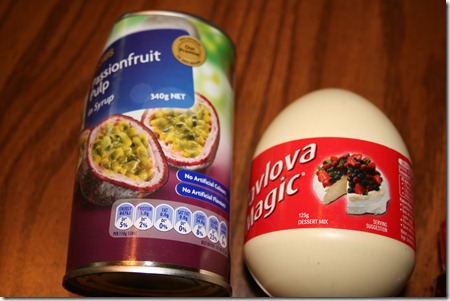 Meredith sent me an egg.  A Pavlova Magic egg!  And some passionfruit pulp-
but I haven't decided on its final use yet.
The egg however – had powdered egg whites- the instructions called for
water and sugar and a mixer.  I made the meringue – baked it and then got
out the whipping cream and black raspberry jam.  This was so good.  If you live
in Australia and can just pick one of these magic eggs off the shelf- try it.
(Of course if you have chickens and a great many eggs to use- just do it from scratch)
Me- I liked the MAGIC!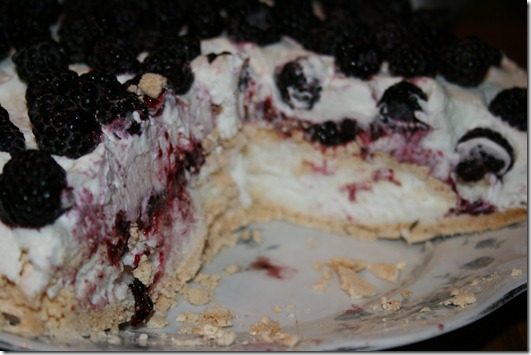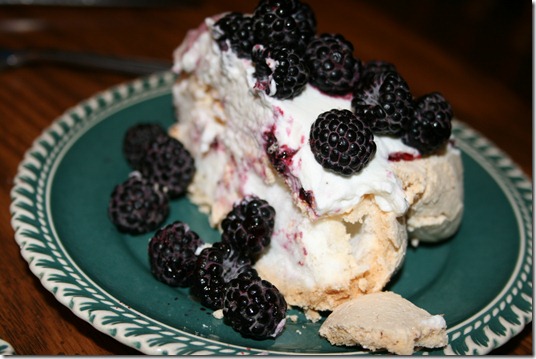 And the Pavlova is fantastic!