Rhubarb custard pie-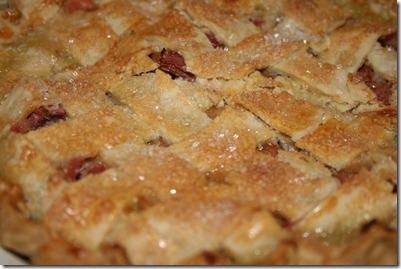 with a lattice top crust and sprinkled with sugar- beautiful and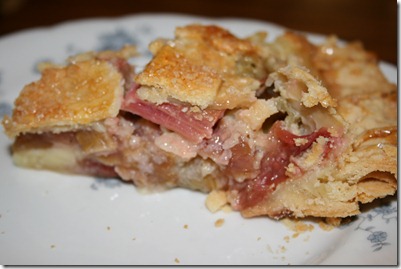 the recipe is here.  Delicious!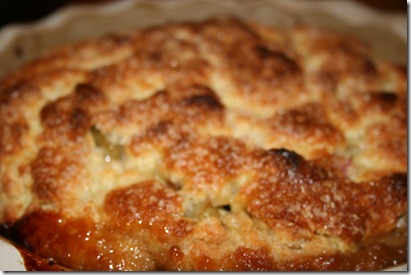 And Country Rhubarb cake with whiskey cream topping.  Oh my- what
a treasure!  I really don't remember exactly where this recipe came from-
although I think it may have been a Gourmet magazine from many years
ago. 
Recipe:
1 pound fresh rhubarb- 3 cups of 1" slices
1 cup light brown sugar
2 cups cake flour
3/4 tsp baking powder
1/2 cup + 2 TBS granulated sugar
1 stick cold unsalted butter cut into 1/2" cubes (4 oz)
1/3 cup whole milk
2 large eggs- 1 separated- save white for topping glaze
Preheat oven to 400 degrees F
Toss rhubarb with brown sugar- set aside.
Whisk together cake ingredients, blend in butter with pastry blender or
fingers until it resembles coarse meal.  Whisk together eggs and milk, make
well in dry ingredients and stir to make soft sticky dough.  Pat half of dough
into the bottom and sides of a 10"ceramic pie plate with floured hands.
Cover with rhubarb and sugar mix- make sure you get out all the juices.
Spoon last of dough on top- brush with egg white and sprinkle with granulated sugar.
Bake for 40 to 45 minutes- keep an eye on top- reduce heat for last 10 minutes or so that
the top doesn't get too brown.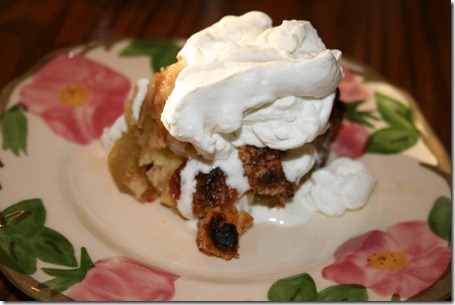 Whiskey cream topping-
1 cup heavy cream
2 TBS powdered (10x) sugar
1 TBS whiskey
1/2 tsp vanilla
Put cold cream into a chilled bowl- add rest of ingredients and beat until
you have stiff peaks!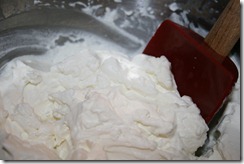 Serve warm with a cloud of cream topping on top!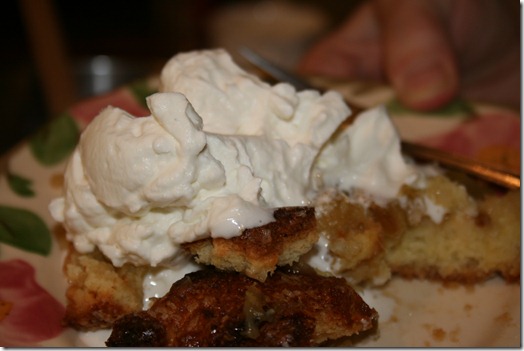 Enjoy!