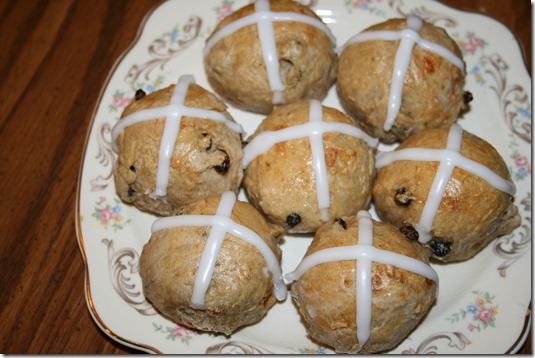 Good thing I only make these once a year!
Because warm and slathered with butter- they are addicting.
I  usually make these with a boiled potato base, like the ones pictured here.
But this year I followed a recipe my friend Joanna sent me.  Only I didn't really.
I didn't use citron or fruit peel, except for my own homemade orange peel.  And I added
currants.  Mainly I just added cinnamon, ginger and cloves to a sweet roll dough and then
put a cross on top.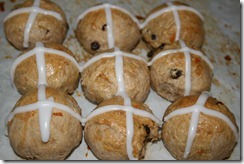 I took some to a friend's house last night and shared some with Cynthia.
And then we had some for breakfast-  so there aren't many left.
That's good- because they last a lot longer in the memory than they do in the mouth!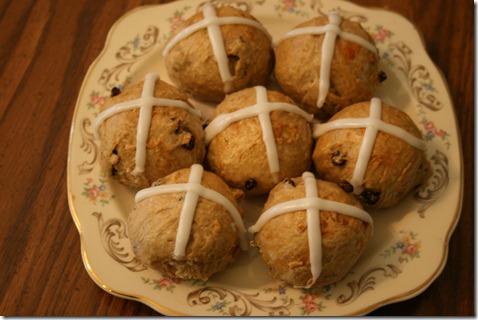 Here's the recipe for the add 1 tsp of ginger and cinnamon, and 1/4 tsp
cloves, 1/4 cup fruit peel or zest from one lemon and one orange and 3/4 cup currants.
Roll recipe- makes about 3 dozen rolls.
Ingredients;
6 cups all purpose flour
1 1/2 cups milk ,scalded in microwave (about  2 min on high)
1 stick butter or margarine
2 eggs
1/2  cup sugar
1 Tbs salt
2 Tbs yeast
1 cup warm water
scant tsp sugar
Method:
Put flour, sugar and salt into large bowl and whisk together- form well in center of flour.  Melt butter or margarine in the hot milk and set aside.  Proof yeast (mix  together yeast and sugar, stir in water and watch for growth reaction- it should start growing  almost immediately).  Beat eggs and pour into well, add milk mixture (butter should be completely melted) and stir until the flour and liquid are one mass.  Add proofed yeast-(  if the yeast didn't raise ,proof another batch, either it is too old or your water was too hot) and mix the whole mess into a sticky dough!  Flour counter, dump dough onto flour , add some more on your hands and knead for at least 10 minutes.  This is a Big ball of dough so put your muscles into it.  Grease large bowl, form dough into a ball and allow to raise, covered, for at least an hour , until doubled in volume.
HOT CROSS BUNS!!!