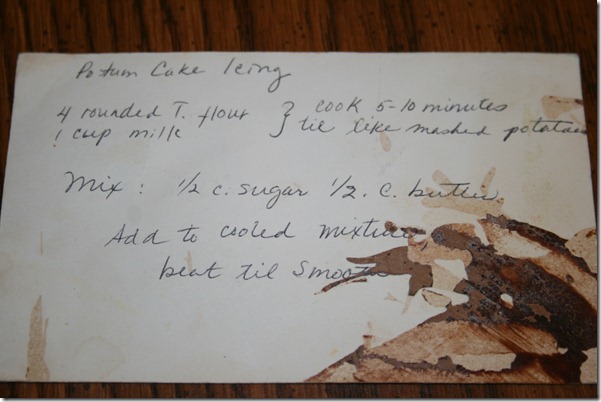 I was looking for the recipe for my mother's cocoa brownies yesterday and I found it!
Going through the recipe box always brings me to tears.  This one is written in Robin's writing- and has
been accidently dipped into a bit of the batter many years ago.  The tears aren't because of the messy
card- but because of the treasure of memories my sister's handwriting brought me.
The tears were quickly followed by a smile, though- because on the flip side of the card-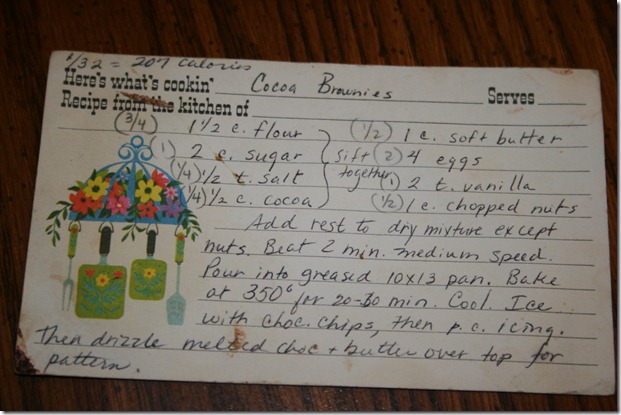 was a notation of the calories in one 32nd of a piece of brownie.  Robin was a great calorie counter.
Here is the story my mother always told of these brownies.  A friend had given her the recipe, but when
my mom made it, she thought it might be too rich, so she substituted margarine for the butter, and then
made it in a jelly roll pan rather than a 9×9 square pan.  And then it was too thin so she added icing- the
icing she used for the postom cake.   To dress up the brownies, she added melted chocolate on top and
it got a very distinctive design when cut whilst it was still warm.   She had company over one day and
the husband of our visiting couple really loved the brownies.  He kept saying, "Get the recipe for these
brownies, Sophie, they are the best I've ever had."
Sophie, his wife, was the friend who had given my mother the original recipe for these brownies!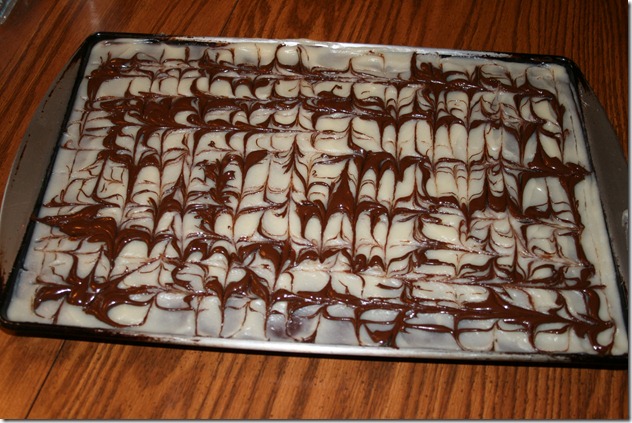 Here's the recipe for Cocoa Brownies with cooked icing.
Ingredients:
1 1/2 cups AP flour
2 cups granulated sugar
1/2 cup dark cocoa- I used Hershey's
1/2 tsp salt
1 cup soft butter
4 eggs
2 tsps vanilla
1 cup chopped nuts
12 oz bag of choc chips
Sift together the dry ingredients.  Sift them because the cocoa will have some compacted balls and REALLY need
to be sifted.  Set aside.
Beat the butter , eggs and vanilla together and add the dry ingredients  about a cup at a time. Mix well, add nuts by hand
and spread in a greased jelly roll of cookie pan with sides.  Bake at 350 degrees F for about 22 minutes- do not overbake,
these burn easily since they are so thin.  pour 1/2 cup choc chips on to hot top and let melt.  Skim the chocolate over the top
and allow to cool completely.
Now to make the cooked icing.
I was going to take pictures of each step- but this goes pretty fast and needs to be tended- so no pictures, sorry,

.
Put one cup of milk in medium cook pan and stir in 4 rounded Tablespoons of flour and stir for about 10 minutes over
medium heat until the mixture is the consistency of mashed potatoes. Stiff mashed potatoes.
Take off heat and stir in 1/2 cup butter and 1/2 cup sugar.  Beat until creamy and ice cooled brownies in tray.
Melt 3/4 cup of chocolate chips in microwave and drizzle on top of icing.   Using a sharp knife cut the brownies into about 32
bars.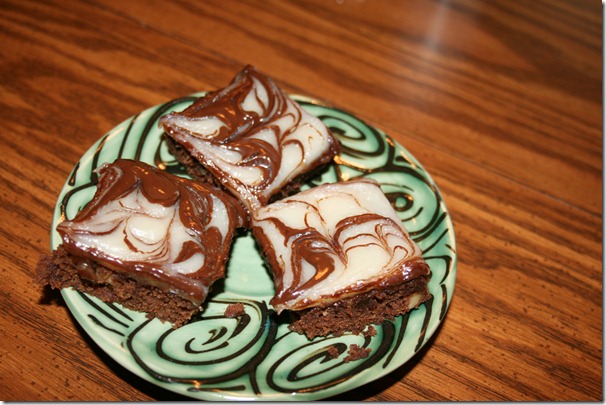 These are soft and chocolatey- it is hard to eat just one!