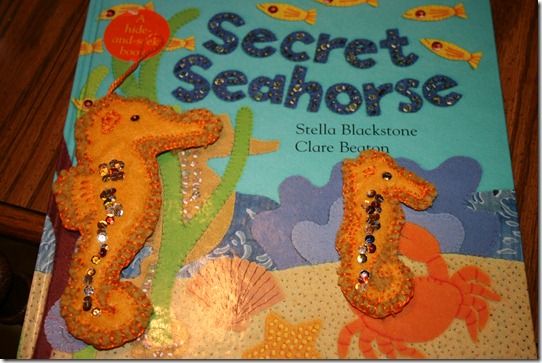 I found this book at our local used book shop/funding literacy campaign.
It was torn and they were going to toss it, but I loved the illustrations- needlework with antique
fabrics, sequins and felt.
So I rescued the book, cut out the torn page( thankfully it didn't affect the story) taped two pages
together to make it whole, and then I made the two felted sea horses to go with the story.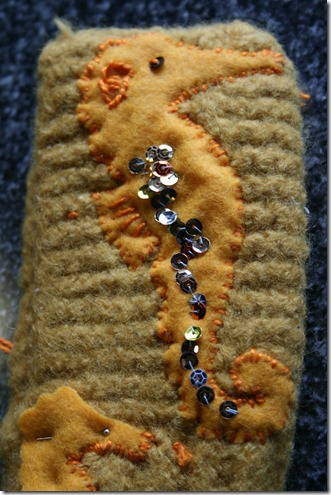 When I began felting my wool pieces some years ago, I wanted
to try out the process and used a pair of gold wool slippers I had
knitted but was not fond of- and they became a very small pair of
gold wool slippers that I had no real use for anymore.   But I didn't
throw them away, because I like the texture and the reminder of
how much wool shrinks when felted.
So I rummaged through my old fabric trunk, came up with some sheets
of yellow felt and appliqued the seahorses onto the slipper.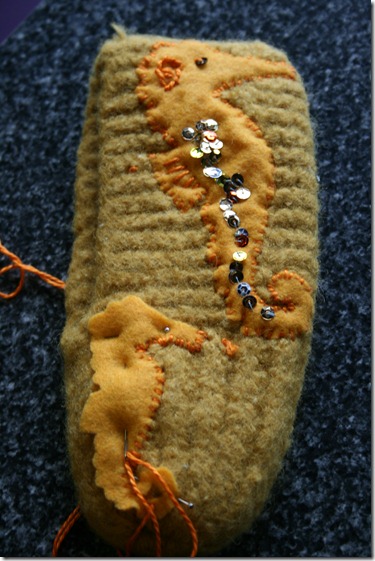 Then I added some identifying stitches, an eye and sequins.
I used the pictures from the book to make the pattern for the
Sea horses- I wanted them to add to the fun of identifying the
hidden or Secret sea horses throughout the book.
We sent them off on Monday to Oyster Bay- I'm hoping the little boys
enjoy the book in person as much as they did when I read it to them on Skype.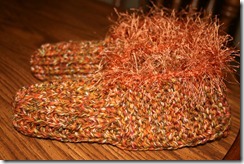 And then – because I had gotten rid of a pair
of slippers, I made another pair.
I crocheted some faux fur on the edges- they remind me of lions.
And now I'm going to knit a couple of hats- I found a pattern I can follow
and like- and am going to teach my niece to make a knitted hat over the
next week.   We are going to Chincoteague for a couple of days so that
will be our evening project!