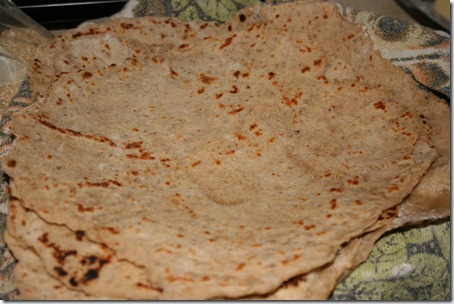 First of all, let me say – if you have only had store bought bread wraps, then
you haven't really had anything close to a good wrap.
These have a texture that just isn't there- and an aroma that transforms the
whole making and eating experience into an occasion!
I patched together 3 different recipes to come up with one that used the
ingredients and processes that I wanted to incorporate into my wraps.
And we ate the first ones still warm from the skillet- this in itself makes the
whole job totally worthwhile!  I've made them again when the first batch was
used up- I have a feeling I will be making these up for a long time to come.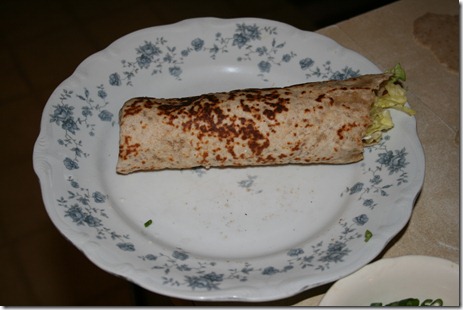 Recipe for Quinoa and Spelt flat bread wraps-
*quinoa (pronounced Keen'-wha) is the seedy top of a vegetable related to spinach.  It was used in the
Andes region of South America thousands of years ago- you can read about the
origin here.
**Spelt is a complex wheat originally found in the Mesopotamia region.  It predates
bread wheat – you can read about it here.
Ingredients :
2 cups AP flour
1 cup spelt flour
1 1/4 to 1 1/2 cups boiling water
1/4 cup potato flour
1 tsp salt
1 tsp instant or rapid rise yeast
2-4 TBS vegetable oil
!/3 cup quinoa
1 cup boiling water
Method:
Place 2 cups AP flour in small bowl and pour 1 1/4 cups of boiling water into bowl and stir well.

Set aside and cool for 30 minutes.

Brown quinoa in skillet and add 1 cup boiling water.  Cover and simmer until water is all absorbed,

take off heat and cool.

In a large bowl add all ingredients together and knead for about 10 minutes. (Make sure that the boiled

flour and quinoa aren't too hot to the touch, but don't wait until they are cold either- warmish would

be right.)

Oil bowl and turn the ball of dough over so that it has an oily surface on top and cover and let raise

for an hour.  Separate into 8 to 10 balls.

Roll out on lightly floured surface until very thin- then carefully transfer to lightly oil

medium hot skillet

.And cook until browned.

Turn over and brown other side.

Cover with tea towel to keep warm and use immediately.

Or cool completely and put into plastic bag and use later.  I kept them

in the fridge and they were good for a week. "

I grilled chicken slices, onion and green peppers, added some tomato and scallions-

put down a layer of hummus and added a dollop of sour cream.

Rolled them up-

And YUM!  Lunch was served!

Jordan especially loved these and was quite glum when I gave the last one to his aunt.

So I made them again on Sunday.

Try these – they really aren't that hard to make- and you won't ever want to go back to

the tasteless cardboard they sell in the grocery stores for wraps!