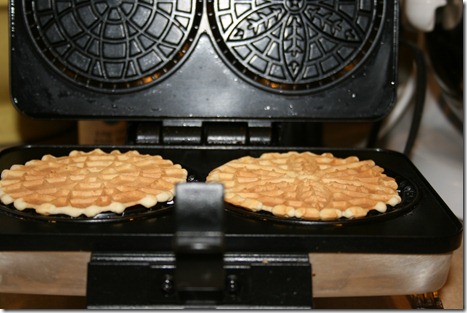 They cook up like waffles- only much thinner and crispier.
They are crunchy and aromatic and taste like anise.
You make them two at a time- so it takes a LONG time to make 3 1/2 dozen.  It takes
twice as long to make 7 dozen and you burn a lot if you get involved in multi-tasking.
But when everything goes right and they come out golden and delicious- they can
be addicting.  My husband ate 5 while we were talking about the upcoming wedding
of our nephew the other day.  He had his hand out for the sixth and I asked him to
slow down- he was eating them faster than I could make them!
So- here's the recipe I used.
3 large eggs
3/4 cup granulated white sugar
1/2 tsp anise extract
1 tsp  vanilla
1/2 cup melted butter
1 3/4 cups flour
2 tsp baking powder
small pinch of salt
Beat the eggs and sugar together until  all the sugar is dissolved and the mixture is
just a little stringy.  Add vanilla and anise extract ( you can leave out the anise if you
prefer just a vanilla flavor).  Add just a bit of the melted butter, beat it in well and then
add the rest of the butter.  Sift together the flour and baking powder and add !/4  cup at
a time with your mixer on low so that the flour doesn't jump back up at you.
Add salt at end and give it one more mix. 
Preheat the pizzelle iron- waiting until the red light turns green and then lightly oil and
place one largish teaspoon of batter ( it will be rather stiff) into the center of the round.
Close down lid and wait until the light turns red and then back to green and open top- about 2 minutes.
Place on wire cooling rack until stiff and cooled and then stack them up!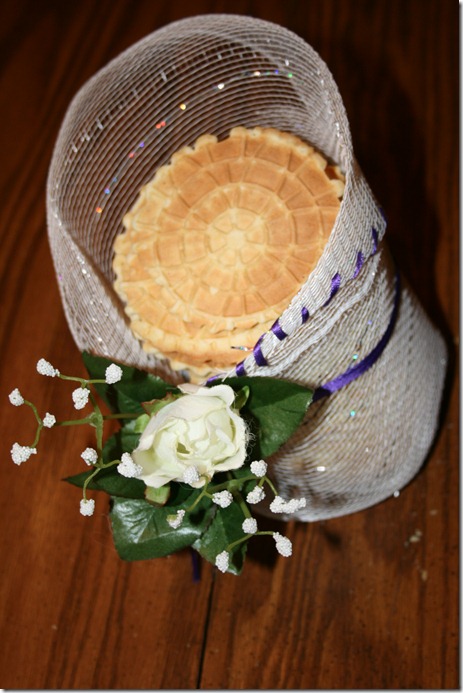 I only paid about $12 for the iron a couple of years ago- it was a good investment!