It was Thanksgiving today in America!
I made my usual sausage and walnut stuffing.
And 4 dozen dinner rolls.
And a pumpkin pie.
But it was also the 36th anniversary of our wedding for my husband and myself-
and I had my heart set on this-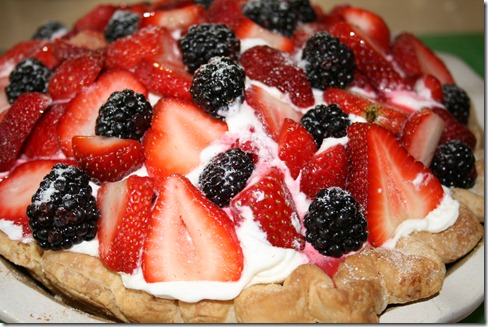 a Berry Meringue tart!
I got the recipe here at cityhippiefarmgirl's  blog.  And I've been thinking about it
ever since.   Meredith was here for our celebration and since her next stop is Canberra,
Australia, I decided to make a version of the Pavlova for her.
Pavlova's are a distinctly Australian ( and New Zealand) treat and they usually don't
have a pastry shell.  But Brydie's looked so good I couldn't get it out of my mind.
I started off with a short pastry crust- I made a regular pie dough ( 2 1/2 cups flour, 1 stick
cold butter, 1 tsp salt, 1/4 cup ice water) and then I rolled it out and place another stick of
unsalted butter in a thin layer on the dough.  Then I folded it in thirds, and then folded
it into thirds again and refrigerated it.  When it was cold I took it out and rolled it out and
placed it into a deep dish pie plate and baked it after scoring the surface with a fork in
quite a few places.
When it cooled I mixed together whipped cream and marscapone cheese and about 1/4
cup sugar and put a light layer of this on the bottom of the crust.
Then I made meringues-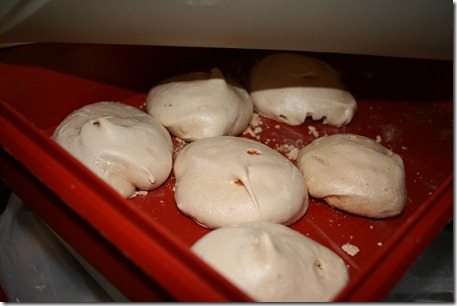 and placed them on top of the layer of cream and cheese.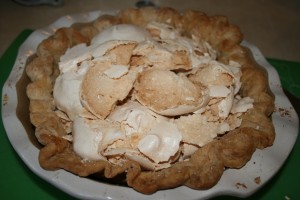 And then I piled the rest of the whipped cream mixture on top,
added the berries and sprinkled sugar over the top.
It was delicious!  I cut the tart into 10 pieces and the adults all
had a piece.  Most had never had Pavlova before- and they loved
it!  I am making this again.  Maybe for Christmas.
Because this is my new favorite dessert!
Thanks, Brydie!