I just got back into my kitchen after two weeks on the eastern coast of
Virginia.  It is like culture shock.  Down there I keep the ingredients to
a minimum- less to use up or carry back home- or
~shudder~ – have to throw away!
My kitchen is overstocked.
I have goodies from all over the world, thanks to Meredith, my niece
serving in the US Navy.  I have bulk items from the Amish stores in the
next county- and I have a bunch of interesting specialty items from Aldi's
and Trader Joe's markets. 
I also have a problem with collecting.
Or should I say, collecting is a problem I have.
In my kitchen-
I have cookie molds all over- these are wooden and wax.  I also have about 10 ceramic molds.
In my kitchen-
I have a large jar of cinnamon imperials or hearts- I use them to decorate cookies.
In my kitchen-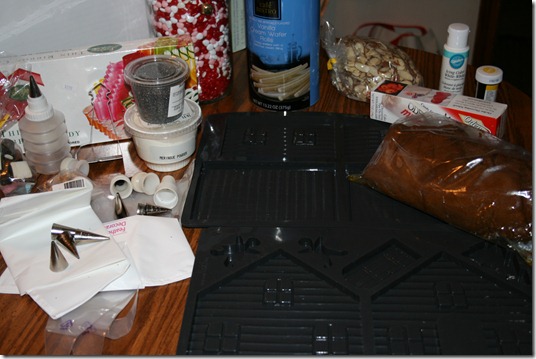 I have the fixings to make gingerbread houses.
silicon molds ….. and ribbon candy and sprinkles,Icing bags and tips,and marzipan and almonds,
and color pastes and large cake boards and meringue powder!
In my kitchen-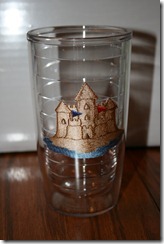 I have a new insulated glass with a sand castle imbedded in it!
In my kitchen-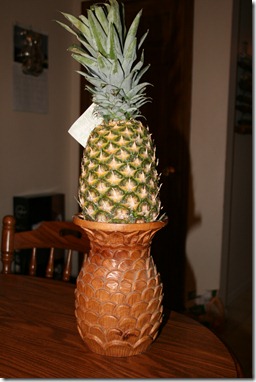 I have fresh pineapple sitting on top of a pineapple vase.
I love fresh pineapple and love to decorate with it during the holidays.
In my kitchen-
(or more precisely, in the stairway down to the basement, off of the kitchen)
my husband built me some pantry shelves.  I love this pantry-
I can see everything at a glance and don't have to worry about
a heavy can falling out of the cupboard onto my toes!
Well- that is just a peek into my kitchen this month.  I have lots
more that I will share along with recipes as the holidays progress.
What's in your kitchen?
( This is a continuing series in conjunction with Celia's at Fig jam and Lime cordial
go and take a look at all the posts she has listed in her side bar, if you are interested
in a peek into kitchens all around the world!)