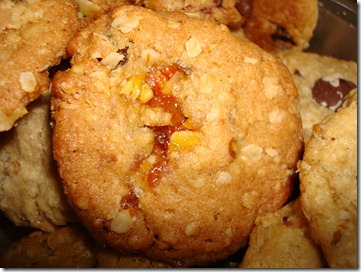 Oatmeal and apricot cookies!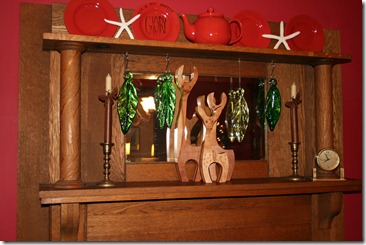 Mantle piece in dining room.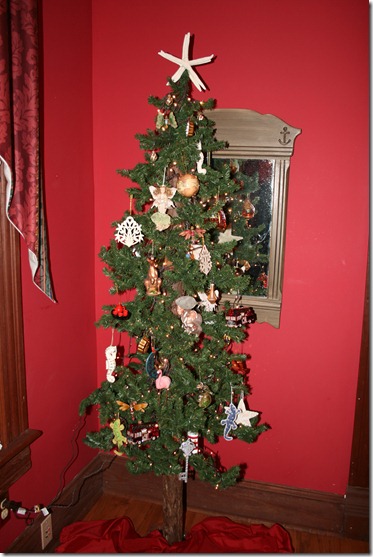 Christmas tree!
The tree is decorated JUST for Meredith!  The camel, elephants, and kangaroo
all represent her travels-  (Iraq, Thailand, Australia).  The mermaids, lighthouses,
firetrucks,seahorses and keys represent her house on Chincoteague.  The teapot and
cups on a tray- her preferred hot drink- and it all speaks of the sailor and places she has
been and hopes to go.  The pink flamingo is just to remind her how she needs to
have a sense of humor- (she hates pink, hates flamingoes, and hates the big picture
of a huge pink flamingo that graced the hallway of her house when she bought it!)
And, just in case you thought that one picture of cookies doesn't count for much
baking…..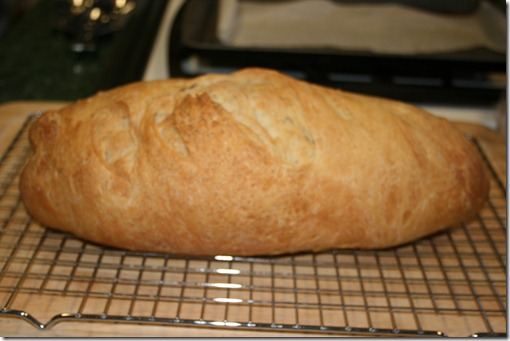 -here's a loaf of Italian bread I made yesterday!
Recipe for cookies-
1 stick butter
3/4 cup of white sugar
3/4 cup brown sugar
1 egg
1 tsp vanilla
1 heaping cup AP flour
1 cup oatmeal
1/2 tsp baking powder
1/2 tsp baking soda
pinch of salt
apricot and pecan paste*
Mix together the first five ingredients until smooth and creamy.
Measure all the dry ingredients into a bowl and stir, then add to
butter and sugar mixture.  Take a pinch of the apricot and pecan paste
and wrap cookie dough around it and place on parchment papered
baking pan, about 3 inches apart.
Bake at 350 F for 8-10 minutes, until golden brown.
Apricot and pecan paste
1 1/2 cups dried apricots
1 cup chopped pecans
2 to 3 TBS white pear basalmic vinegar
1/2 cup honey
Put all ingredients into food processor and
run until everything is a paste.  Place in loaf pan lined with
parchment paper and cover top with another sheet of paper,
weigh down top to compress.
(See how Celia at Fig jam and Lime Cordial, makes a variation of
this in a fig and walnut paste- or an almond and apricot version. )