The days are getting shorter- and the rain keeps
coming down.  The nights are cool- sometimes down-right
nippy.  The rose bushes are still hard at work, putting out
little buds that may never bloom- there is a killing frost
on the way.
It's time for Jambalaya- Spicy and warm- tummy filling-
sensory overloaded Jambalaya with ham and sausage and
plump white shrimp.
(I keep the shrimp separate because my husband doesn't like it.)
Ingredients:
1 ham bone with ham still on it.
1 pkg. shrimp (medium 31-40 pieces)
5 HOT sausage links- cut into smaller pieces ( Andouille or Chorizo- or even Hot Italian or Hungarian)
1 onion, diced
3 stalks celery, diced
1 green pepper,diced (or hot peppers if you can handle it!)
1/2 tsp dried thyme- ground
1/2 tsp Old Bay seasoning
2-3 cloves garlic crushed
1 large can diced tomatoes
1 cup water
2 TBS chopped parsley
A couple of good shakes of Cajun spice seasoning
( or tabasco sauce or cayenne pepper)
3 or 4 TBS olive oil
2-3 TBS butter
Salt and Pepper to taste
Method:
Pour a few good slurps of olive oil in a large pan, add the butter and
heat until butter is melted, not browned.
Sautee up the shrimp with the crushed garlic- one layer at a time until the
shrimp are pink.  Using a slotted spoon, take out the shrimp and put in a bowl
to cool so that you can take off the shell later.  Leave behind the butter and
juices to sautee onion, green pepper and celery until soft, then add the ham
bone and sausages and simmer until sausages lose their pink and add the
diced tomatoes.  Then add the water, cover and let the whole mess simmer
for about 45 minutes on low, stirring occasionally.
Add spices and herbs, checking on the liquid so that the ham is surrounded by
sauce.  Leave to simmer another 20 to 30 minutes- then tear or slice off ham pieces
about the same size as sausage pieces.
Add cleaned shrimp for another 10 minutes of simmer time, and serve next to
or on top of pasta or rice- or next to some dirty rice.
Dirty rice is made up of :
rice, onions-red and white,sausage, ground beef,celery,green peppers,chopped giblets,
garlic,tabasco sauce,chicken broth,smoky paprika,cumin,parsley,cayenne pepper,and
anything else your palate desires!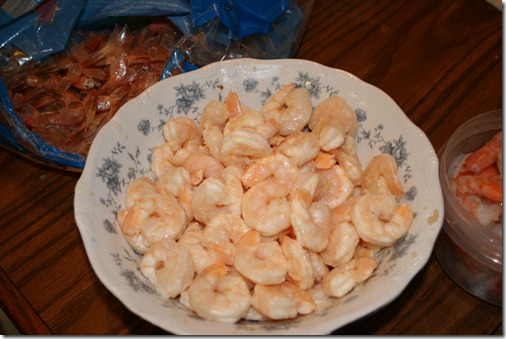 Jambalaya- with shrimp- it's good eating Spring- Summer-Winter-or FALL!
And it's what we're having for dinner tonight.
Add some good cornbread for dipping in the sauce- it's comfort food all around!