I have a friend who lost her sense of smell.
HORRORS!
I need all of my senses- I would miss each one to a different degree if I no longer had it. But it is like the olfactory is just a minor sense that we can live happily without, in many people's opinion.
Not mine!
When my son, Luke, was little he would say, " Mom, you smell real good", and I knew he wasn't talking about my perfume. I DO have a good sense of smell.
I can smell when bread and cookies are done.
I can smell the separate ingredients in a cooked dish.
I can also smell snow and rain and delicate scents that linger in the air around certain flowers.
And I can smell the roses!
Yesterday was a sensory delight for a dedicated smeller like me.
First, I had a friend come over to make potpourri.
She had some flowers she was drying from her son's wedding and wanted to make a couple of bags of potpourri to share with her new daughter in law and her mother. And I have much potpourri paraphernalia!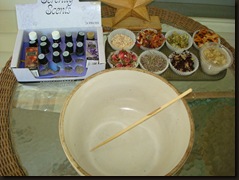 MUCH potpourri paraphernalia!
So we mixed and smelled and added and stirred and sniffed until she was happy.
I made a couple of lavender wands while I was waiting so I had already had a fragrance fix before she got here.
And then I made some chocolate and spice cookies to have with tea on the porch.
Spicy gingerbread with dark chocolate centers, YUM!
And then I made dinner-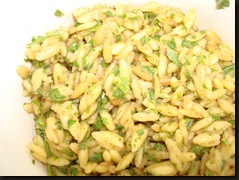 Orzo with cinnamon brown butter and parsley
Makes 8 servings
Perfect for a fall dinner
1
#
orzo
1/2
stick
unsalted butter
2
Tbl
olive oil
1/4
tsp
cinnamon
1/4
tsp
freshly ground black pepper
3/4
cup
fresh flat leaf parsley – chopped
METHOD:
Cook orzo according to package directions, drain and set aside.
While orzo cooks melt butter in small skillet and then simmer over low heat for about 5 minutes until golden brown and nutty.
Remove from heat and stir in olive oil, cinnamon, and pepper.
Add drained orzo to skillet, scraping bottom to mix in any small brown bits.
Add parsley and toss to combine.
Season with salt and serve.
This smells as good as it tastes. And it tastes real good!
And then I made brownies.
I have made many pans of brownies over the years. I have a recipe that makes enough brownies for a crowd that my mother used to make All the time.
I have a recipe for Raspberry truffle brownies that is elegant and rich and deadly.
I have a recipe from a friend that is titled – "best ever brownies"
And they are all good.
So I'm making a huge confession and endorsement when I tell you that my favorite new way of making brownies is……………………………………………………….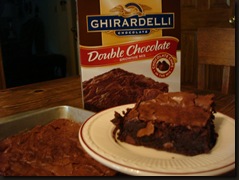 a mix from Ghirardelli. These are quick easy and delicious. Deep dark and smooth with a cakey exterior and a dense fudgey interior that satisfies the chocolate urge like only a good brownie can.
I don't usually talk about brand name products. But these are absolutely worth a try.
So- have you smelled anything good lately?