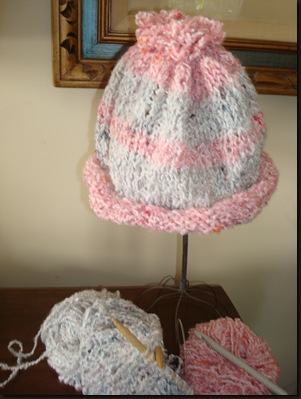 This is the hat I made while in Chincoteague last week.
I made it for Allyson, because she always is looking for a new hat.
And it is pink and grey- two of her favorite colors.
I made it big and out of wool so it can be felted and shaped.
I really don't know to crochet, except for the basic chain stitch. I made up the
flower as I went along. And I did the flower at home because I found out
something about Chincoteague I hadn't been aware of before.
No one sells crochet(or knitting or large eyed sewing needles) hooks on the island. NO ONE. We asked at the pharmacy/drug store- where they sell everything from nose pads for your glasses to scented candles and hair dryers- but no crochet hooks.
We tried the Dollar stores, the grocery store, any number of specialty stores.
We found some acrylic yarn at one shop but NO crochet hooks.
So the hat couldn't be f inished until we came home.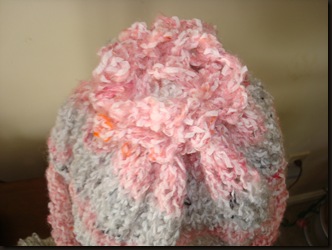 I like the way the rose/flower turned out even if it isn't done right.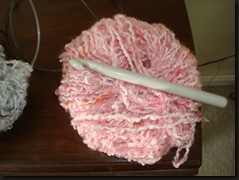 It's amazing what you can do with a hook and yarn.