I guess it is still scone week so I can post another recipe.
I converted the metric measurements from Misk's recipe,
which was an adaptation of Claridge's afternoon tea scones,
and I found I had a recipe very like my usual baked scones.
However, I got a comment from Brydie, of Cityhippyfarmgirl-
(look at my blog roll on the side to find her website) and she
had added vanilla and maple syrup to her scones.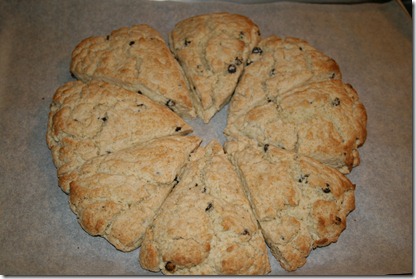 That sounded good to me- so I made that adjustment and baked up
these beauties this morning.
I changed up the recipe to my tastes- feel free to do the same for yours!
Misked- Match Scones w/ maple syrup, vanilla and currants.
Ingredients:
2 2/3 cups of AP flour
2 1/2 Tablespoons baking powder
1 pinch salt
1/3 cup (or less) of white sugar
1/2 cup cold unsalted butter
3/4 cup heavy whipping cream
1/2 cup cold milk
4 Tablespoons maple syrup
seeds from 1/2 vanilla bean
3/4 cup dried Zante currants
beaten egg for wash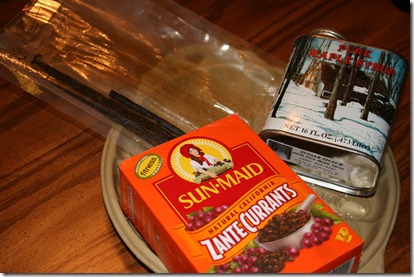 Preheat oven to 425 F.  Bake for about 15 minutes or golden brown.
Mix together dry ingredients with a fork, add cold butter and using
hands or pastry blender break the butter up into the flour until it resemble
a coarse meal.  Add vanilla bean seeds and currants and stir to distribute them
evenly.  Make a well in center of flour/butter mixture and pour cream, milk, and
maple syrup and then using fork, mix gently, pulling the flour mix into the liquid
mixture until all of dough is wet.  It will be a little sticky.  Put into fridge for
about 10 minutes, then tip onto parchment paper, or into round shortbread
stone-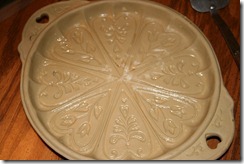 -that has been well oiled.
 I didn't get a good definition of the flowers on my scones, but it helped me
to cut them evenly and with a strong edge.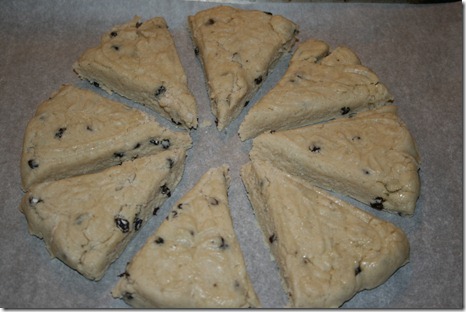 Place on parchment paper on baking sheet and separate slightly so that they
have space to raise in the oven during baking.
Bake until golden brown, about 15 minutes in my oven.
I added a little crème fraiche, and orange marmalade-
Delicious!