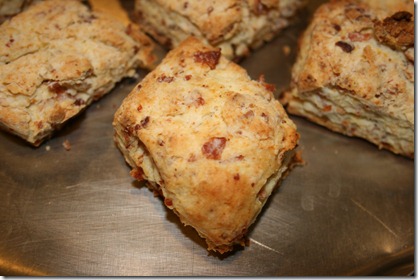 Last year I made some North Umberland singin' hinnies or
Welsh scones –with lavender.  Celia and Joanna and some
others made scones this week, as well, and so we (Celia,
mainly) proclaimed it Scone week.
Celia has a VERY good memory and she has posted a
 savory cheddar and onion scone.
I decided to share my Slovak scones, begonya- a bacon
or scrappling  savory scone that my grandmother used to
make for my mother when she was a little girl.
My mother never gave me this recipe until I was messing about
with different ingredients to go into a scone for a tea I was preparing.
I'm not sure of the spelling- it is pronounced with all short vowels,
be-gon-ya.  I love these for just plain snacking- or joined with a creamy
soup and salad for lunch.  Or warm and slathered with butter…. any way
you like them- with tomato slices and basil and cheese would be good,too!
Here's the recipe-
Ingredients
1/2 pound bacon fried and chopped
2 cups all purpose flour
1 Tablespoon baking powder
1/2 tsp salt
5 Tablespoons margarine or butter
2/3 cup cold milk
Method: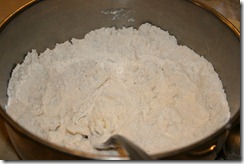 Mix together flour,salt, and baking powder.  Cut in margarine or butter
until it looks like oatmeal.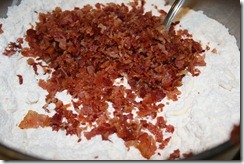 Add bacon. Stir.  Add milk.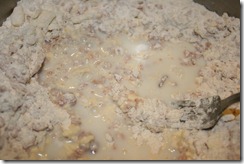 Mix with fork, gently knead to blend for 1-2 minutes.
Pat down or roll on floured board to 1/2 inch thick.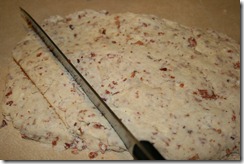 Cut on angle to make diamond shapes.
Place on ungreased baking sheet ( I use parchment paper)
and bake in preheated oven at 450 F for 12-14 minutes.