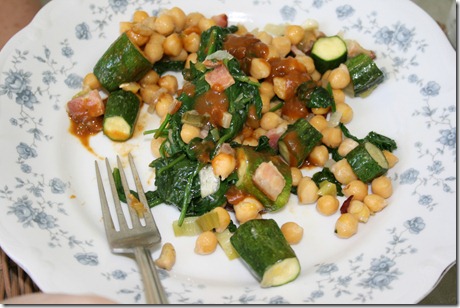 Yesterday I had day one of a Yard sale.
Why do I do these things?  I'm leaving for a week tomorrow- I really don't need
the hassle of doing this right before!  But I promised to get rid of some of this
STUFF that has accumulated in my basement and around the house- and Cynthia
is trying to get rid of some of her stuff- and Jordan wanted to get rid of- well- you
can see how it goes….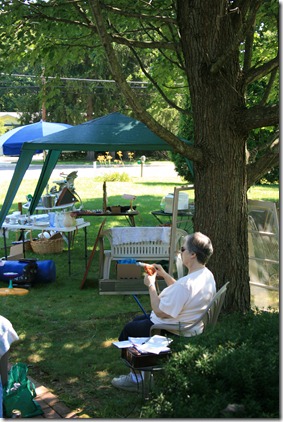 And this is how it went- SLOWLY- very S L O W L Y!
But- I had seen this recipe over at Zeb Bakes- and I
wanted it for lunch.  OK- I changed it a little a lot
and ended up with something quite different- but it
was so good I thought I'd share with you!
Ingredients:
2 cups dried chickpeas, soaked overnight, and then cooked
for about 90 minutes until tender and toothsome.
1 onion, diced
3-4 slices thick meaty bacon
2 big handfuls of spinach
1 lb of small courgettes
lemon oil or juice from 1 lemon
salt and pepper, to taste
curry sauce
Method:
Chop up the bacon and fry it up in a shallow pan.
Add onions and sautee until soft.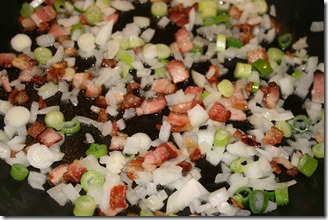 I used a little green onion (scallions) for color..
Then add courgettes (zuchinni)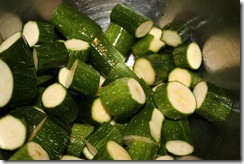 and cover pan to let them cook- about 10 minutes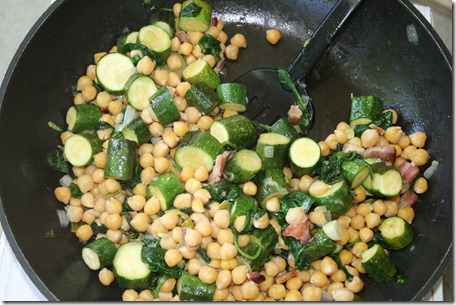 Add chickpeas,lemon oil ( about  TBS) or lemon juice, and stir in salt and pepper.
Taste, and then add spinach and cover to let the spinach cook down.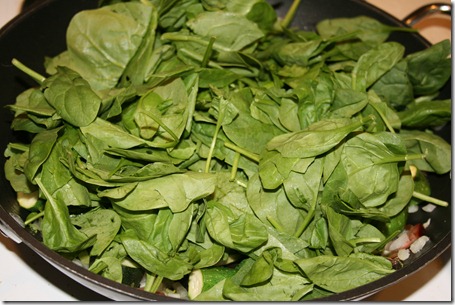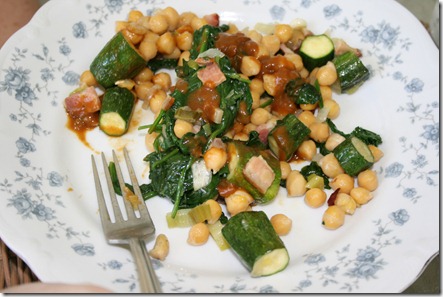 Serve with a drizzle of curry sauce ( I used a prepared sauce- Cynthia was out
watching over the yard sale and I wanted to get back to doing my share).
This was so very good- and filling- that it almost made up for having to sit
outside on a beautiful summer day and watch the cars drive by.
The sale continues today- I sure hope we sell a little bit more of this STUFF!