I started off these psalm postings saying that I had just
taught a class on the Psalms that had lasted for several
years.  We had a method for studying, and a notebook for
copying down familiar and repeated stanzas.  The students
were all encouraged to pay close attention to the language
of the psalmists and were told that at the culmination of our
study- they would be asked to write a psalm of their own.
The average age of our class was about 70- a couple were in the
range of 35 to 45, several of us in our fifties, some in their sixties,
several in their late seventies and early eighties and two in their
nineties.  We had lots of years of experience in our classroom-
and many of the ladies had been believers for 50+ years.  It was
a wonderful group to study and share with!
The oldest lady in our group was Mae.
Mae is still living and loving the Lord, but her health has
been on a decline of late and she can't live by herself
anymore, even with help.
So, her family is moving her closer to them and I went recently
to say goodbye to my old friend.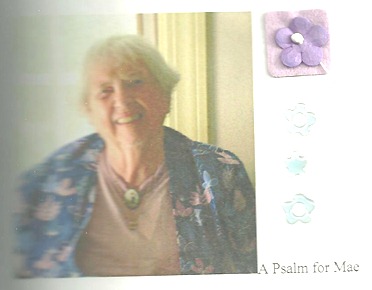 I wrote Mae's psalm for her after asking her to tell me what
she would like to say.  Today's psalm is
"A Psalm for Mae".
From my earliest childhood, I called you Father,
And I call you Father, still.
You have held my hand and filled my heart-
And you hold them now – still in your protection-
Still in your love.  I am still yours and by
Your grace I always will be.
Father,  you have blessed my life with your goodness.
And I have tried to pass that blessing on-
With hugs and love and even with bananas.
Because what is life without blessings?
This life that you have given me has been long,
But not long enough to sing your praises-
And so I will keep on singing here
Until You take me home so I can sing them
With all the saints in glory!
Keep on singing, Mae!