Psalm 17
A prayer of David.
1 Hear me, LORD, my plea is just;
listen to my cry.
Hear my prayer—
it does not rise from deceitful lips.
2 Let my vindication come from you;
may your eyes see what is right.
3 Though you probe my heart,
though you examine me at night and test me,
you will find that I have planned no evil;
my mouth has not transgressed.
4 Though people tried to bribe me,
I have kept myself from the ways of the violent
through what your lips have commanded.
5 My steps have held to your paths;
my feet have not stumbled.
6 I call on you, my God, for you will answer me;
turn your ear to me and hear my prayer.
7 Show me the wonders of your great love,
you who save by your right hand
those who take refuge in you from their foes.
8 Keep me as the apple of your eye;
hide me in the shadow of your wings
9 from the wicked who are out to destroy me,
from my mortal enemies who surround me.
10 They close up their callous hearts,
and their mouths speak with arrogance.
11 They have tracked me down, they now surround me,
with eyes alert, to throw me to the ground.
12 They are like a lion hungry for prey,
like a fierce lion crouching in cover.
13 Rise up, LORD, confront them, bring them down;
with your sword rescue me from the wicked.
14 By your hand save me from such people, LORD,
from those of this world whose reward is in this life.
May what you have stored up for the wicked fill their bellies;
may their children gorge themselves on it,
and may there be leftovers for their little ones.
15 As for me, I will be vindicated and will see your face;
when I awake, I will be satisfied with seeing your likeness
There is an annoying commercial for the KIA  Soul ( a boxy little car made in Korea)
It features Urban hamsters dressed in hoodies- the music is  a hip hop song that says,
The Choice is Yours- Black Sheep (1991)- the refrain is basically " …you can get with this or
you can get with that."  I kind of like the song- but I hate the commercial.  I hate the
hamsters- think the car is ugly- it is arresting, but I hate it.
(If you haven't seen it go to the link below and take a look.)

This psalm reminds me of that commercial.
There are choices in life.
("…you can get with this or you can get with that-
I think you'll get with this for this is where it's at")
We can live a life that is exemplary before God-
(" I have kept myself from the ways of the violent
through what your lips have commanded.")
or we can choose our reward in this life and be like the wicked
who fill their bellies or like their descendants who gorge themselves' on it.
I don't often hear hip hop songs when reading the Psalms,
but do you hear it?
You can get with this (choose to live according to the statutes and laws of
God) or you can get with that ( searching out ways to get ahead of others, even
to the point of their destruction in order to survive and win here in this life!)
I hope "you get with this for this where it's at."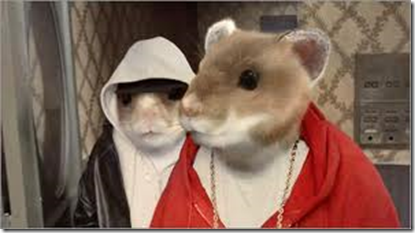 God's truth is real.  And it is out there.
Sometimes the images are a little more out there than we are
comfortable with, but listen to the cadence of David's psalm
and you can almost hear him singing a little hip hop with his harp.