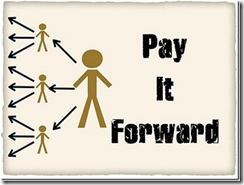 Got this from my nephew's blog– he got it from a friend.
I'm not sure if it is against the rules, but I'm going to try to
enter on both of theirs and see what the "pay" looks like!
Here are the rules:
I promise to send something handmade to the first 3 people who leave a comment on this post saying that they will also participate in Pay It Forward – 2011.
Those 3 commenters must fulfill the following requirements:
1. You must also participate in Pay It Forward on your blog, making this same offer to 3 other people.
2. The rules are that it must be handmade by you and it must be sent to your 3 people *sometime* in 2011.
I did this on Facebook and ended up with a wonderful chocolate ganache cake.
It is a lot of fun and I love the promotion of people making stuff for each other.
So- what do you think? 
What should I make?
What would you like?
And comment please , even if you don't want to sign up.
I haven't posted lately and I miss hearing from you.