I don't have a whole lot of ingredients to work with
here in Virginia.  I can't find any specialty flours in the
amounts I want to buy.  I brought down my own bread flour,
made an acceptable sourdough starter whilst here, and
have made some very decent loaves, but I wanted to make
another loaf of sourdough rye before I ran out of the loaf
I brought down.  Not going to happen, I think.
But I got a box of oatmeal today and made a loaf of
oatmeal bread.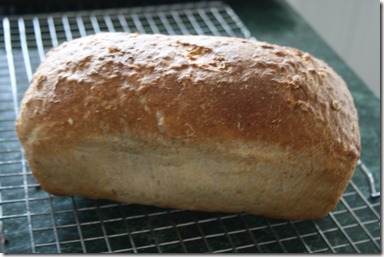 It will do nicely for toast and peanut butter sandwiches.
AND, since I had oatmeal, I decided to make Frank his favorite
cookies ( although I don't have any raisins, I added walnuts.)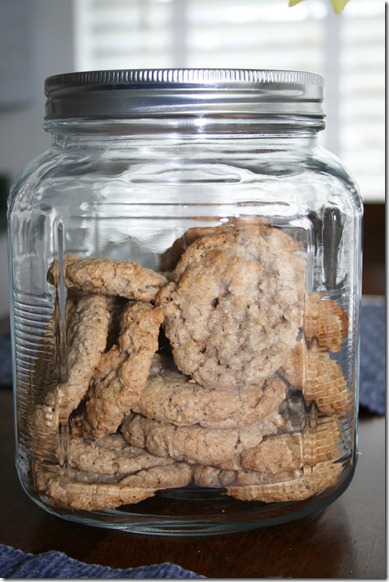 I picked some daffodils this morning-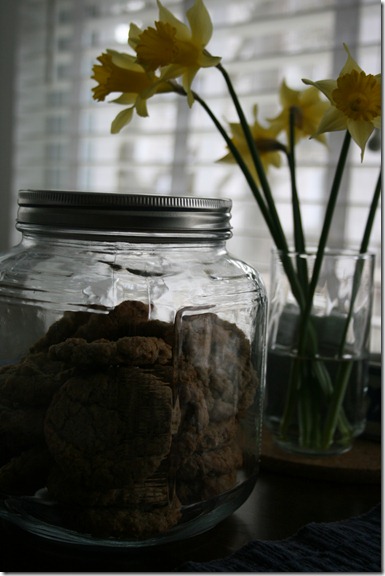 Don't they look pretty next to the cookie jar?
Oatmeal Bread
ingredients:
3 cups bread flour
1 cup rolled oats
1 1/2 tsp salt
2 TBS butter
3 TBS honey
2 tsp instant yeast
1 1/4 cup scalded milk- luke warm
Mix all together, it should make a nice soft dough-not too sticky.
Place in buttered bowl and let sit to raise for 1 hour.
It will not be doubled, but nicely puffy.  Shape into a log, and place into
a greased loaf pan.  Cut slashes across top if desired. Cover and proof for
another 1 1/2 hours, top of loaf should come a couple of inches over
the top of pan.
Bake at 375 F for 35 to 45 minutes.
Cool on rack, don't slice until completely cooled.