RECIPE
1 lb of bulk sausage
6 dried figs- finely diced
1 TBS grated orange peel
2 TBS red pepper preserves ( or hot pepper jelly)
2 TBS lightly toasted pine nuts
1 TBS smoked paprika
1 tsp fennel seeds
1/2 tsp black pepper
2 TBS brandy
Mix all ingredients well together. Form into patties. Pan fry over medium heat, covered, 8-10 minutes- turning once.
1 lb of angel hair pasta, cooked al dente.
3 TBS snipped fresh chives
3 TBS salted butter
Toss together and put on platter first. Add broccoli next, then put your chorizos around the edge of the platter. Dribble a little of the sauce left in the sausage pan over the pasta.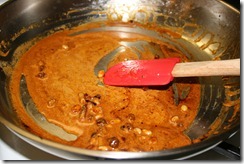 Decarmelize your pan with a little cream.
for the broccoli:
1 large bunch of broccoli- I peel my broccoli- it's a pain, but it is really worth the pain- steamed but still a little crunchy.
1clove garlic, crushed
1 TBS olive oil
3 TBS butter
1 TBS basalmic vinegar.
Sautee the garlic in the oil and butter, toss broccoli with garlic and vinegar.
This recipe served 5 people very generously. Add a green salad and some garlic bread and you have a feast!