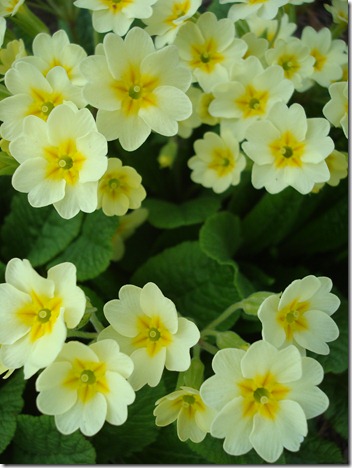 When Robin and I were little girls, Valentine's Day was one of our
favorite holidays.  We would bring home all the valentines we
had received from our classmates and tape them up on the
wall of the staircase coming down from her bedroom- then we would
dress up in our finery and take turns at being the "Queen of Valentine".
It was a little sappy- even for us- but this was before it was cool
for every little girl to play at princesses and we had precious
little play time. 
We grew up in a working business family.  When we got home from school
in the winter we changed our clothes, grabbed a quick snack and went
out into the greenhouse to fill packs with dirt so that our mother could
transplant seedlings – tomatoes, peppers, petunias, etc. to sell in the
Spring.  When it was dark, we would come in for dinner, watch a little
television and get ready for bed.
And Valentine's day wasn't really busy in the greenhouse- not like Easter
or Memorial Day- so we stole some time from work to play.
Over the years, it remained our holiday.  We made each other special
valentines and a special lunch that we shared.  We also shared the
boxes of chocolate and flowers that our men gave us.
To us, it was special- not ROMANTIC!  WE were the Queens of Valentine's
Day.  It would have hurt more if either of us had forgotten the other, than
if we didn't have a guy or a date.
Today, I was sitting in the parking lot of the grocery store, waiting for my
husband to pick up an item we had forgotten, when I saw a woman with a pot
of primroses in her cart.  From the back, she reminded me of Robin- same height
and weight, same hairstyle and color- and as I watched her examining and
arranging the flowers and then write out a card and place it  in the plastic card
fork- I somehow knew that she was going to give that plant as a gift to her sister.
I watched and waited as she carefully put the plant into a decorative bag she
pulled out of her back seat and then placed the bag onto the front seat of her
car.  Then she pushed the cart back to the cart stall and made a phone call.
A couple of minutes later, a woman pulled up behind the car, and I saw her
present the gift to her friend- with a hug.
Maybe.  Maybe that is what happened.  It may have been a gift for a sick friend.
It may have been meant for their grouchy demanding mother.  Perhaps it was
going to end up on the table of her daughter's teacher.  I guess I could have
made up any story to go with the little drama I had seen. 
But tomorrow is Valentine's Day.
And something about this lady reminded me of Robin.
So- as I sat there- I thought of all the hoopla that goes on with Valentine's Day.
And of the angst of single women who aren't in a relationship-
also of the married women who are neglected and don't feel like a Valentine, anymore.
Mostly, however, I thought about how Valentines are about love, and consideration.
And I thought about what a glorious gift we gave each other all those years ago-
because we chose each other to be our valentines.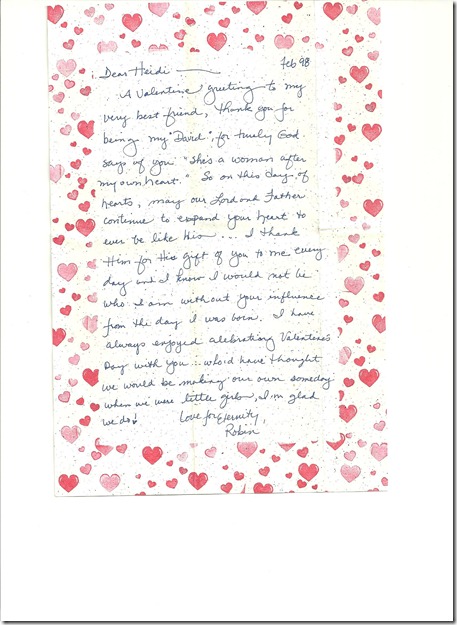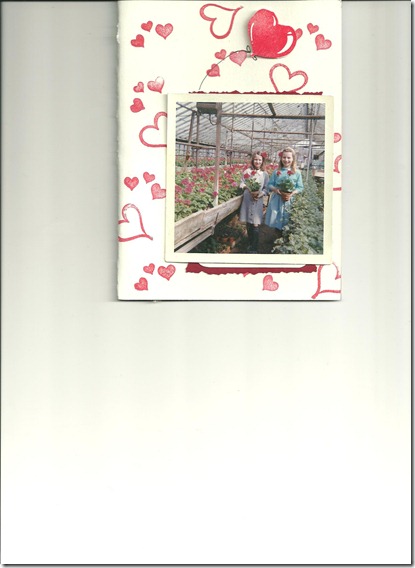 Happy Valentine's Day to you all!