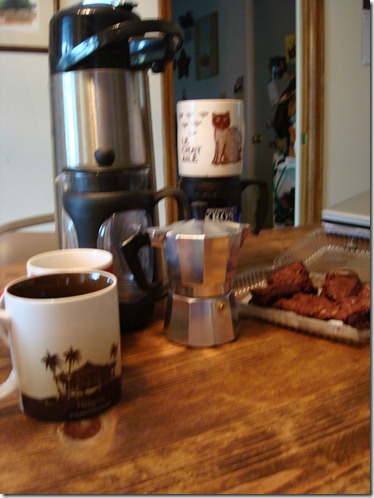 My sons love coffee.
They love the flavor, aroma, history, geography and the effects
of coffee.
I am a tea drinker.  I WAS an exclusive tea drinker.  No Coffee, for me,
thank you very much!
That was until my youngest son started making it and offering it to
me every day.
"Would you like a cup of coffee, Mom?"
"Sit down and have a cup of coffee with me, Mom."
Seriously- how can a loving mother- offered a chance to sit and talk
over a cup of coffee with her son -refuse?
So I started drinking coffee between my tea times.
Now, I'm addicted- I WANT that cup of coffee every day.
And I , too , love the romance of coffee.  It is exotic- grown in climates so
unlike my own, gathered mostly by hand, dried and packaged and sent
off to be roasted to perfection and then shipped to us- bursting with flavor and
a fragrance that is so rich and hearty that is almost enough just to smell it!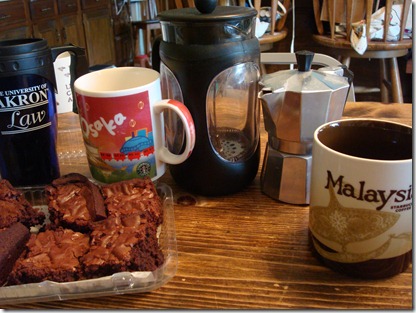 But I digress- this is a story of brother's love.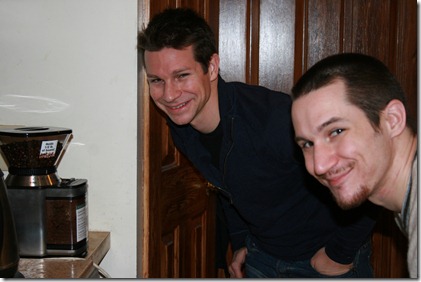 These brothers.
For Christmas this year, they wanted to get the other something he
would love.  Something special.  Something important.
Something that he could REALLY use.
And so – they chose something that was just what they would have wanted
for themselves.    An automatic burr coffee grinder.
Not knowing that his brother was choosing exactly the same gift for him,
they purchased and admired and wrapped their gifts- I think regretting that
they couldn't give it a try first.  On Christmas morning, they exchanged their
gifts- and although they were different models and makes- they were so
pleased to give AND receive a burr coffee grinder for Christmas.
OK- it's not exactly O. Henry's , Gift of the Magi's, but it is such a sweet
gift exchange that I had to share it.
Please forgive me, Jordan.
Luke, I know you understand.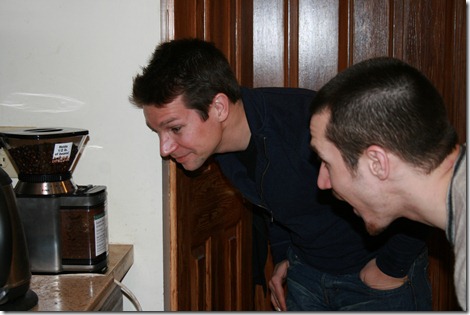 The first grinding was pretty impressive!