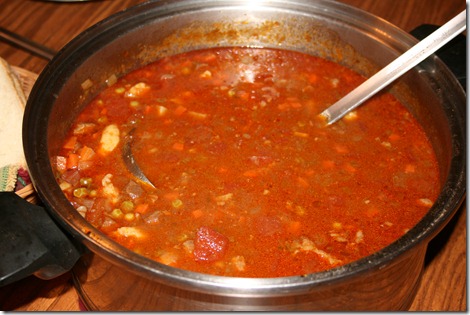 There are many recipes for beef stew out there.
I don't like most of them, they seem to be meat and vegetables in a soupy base.
This is actually made with an oxtail base and finished off with toothsome dumplings.
It is slurry thick with goodness and sticks to your ribs on a cold winter's evening.
This is the magical pot of stew that you have read about in fairy tales- it's aroma
wafting out the doorway and enticing hungry and  weary travelers to come in and
sit and eat.
You need to start early in the day to make this for dinner, although it only gets
better with time- so if it isn't completely ready in time for dinner- order in some
pizza or Chinese and serve this the next day.
It is worth the wait.
Ingredients:
2 medium sized oxtails
1 medium sized onion
1 stalk celery
Oxtails are often fatty- I braised the oxtail with the vegetables (adding about 2 TBS water)
until the water mostly evaporated and the fat had laid down a good coating on the bottom
of the large pan.  Discard the onion and celery.
1-2 lbs. of stewing beef or chuck roast, cut into 1/2 inch cubes
1 large onion, diced
3 ribs celery, diced
3 large carrots, peeled, chopped
1 parsnip, peeled, diced
1 cup frozen peas
2 TBS paprika
2 TBS balsamic vinegar
1 large can diced tomatoes
1 bay leaf
3 cups beef broth or water
Salt and pepper, to taste ( I use about 1 good tsp each)
Dumplings, recipe to follow
With the pan still hot from the oxtails, and the cooked vegetables discarded,
drop about half of the cubed beef into the pan and sear.  When it is lightly browned
you can add the rest of the beef and brown on medium high heat.
Add onions and turn heat down a little – cook until onions become
translucent.  Add paprika and stir, then add vinegar and put lid on pan
letting  the beef simmer in the spice and vinegar mix for about 10 minutes.
This sets the flavors into the beef making each bite succulent.
Now add the tomatoes and again, cover the pan and allow to simmer for another 10-20 minutes
– this will break down the tomato and give the meat a nice deep flavored sauce.
Add vegetables (except the peas), bay leaf, and 2 1/2 cups water or broth and season with salt and pepper.
You may need to add just a little more or less broth- you want a very liquid-y look
because you are going to let it simmer for at least an hour and a half.
Taste a small piece of beef after the long simmer and if it doesn't almost melt in your
mouth, cover and allow it to simmer for another 45 minutes to an hour.
Now, add 1/2 to 1 cup broth and raise the temperature until it comes to almost a slow boil.
Make dumplings.
Ingredients:
1 1/2 cups plain flour
large pinch of salt
1 large farm fresh egg
1/4-1/2 cup water
Place flour and salt in bowl and make a well in center of bowl.
Slightly beat egg and 1/4 cup water together and pour into well.
With a fork, keep beating the egg, adding a bit of flour from the sides
as you go along- if it seems too dry add some more water.  You want
a sticky dough. 
Using a teaspoon, wet the tip in the stew and take a small amount of
the dumpling dough and slide the spoon into the stew to release the
dumpling.  Make the dumplings as small as the beef chunks you started
off with.  This will take some time, but the dumplings are worth it, believe me.
When you have made dumplings out of the whole bowlful, cover the stew,
add the frozen peas,
and let the dumplings cook about 12 minutes or more.  Taste and make
sure they aren't raw in the middle.
The stew should not be boiling fast, turn the heat back down to low – fish
out the bay leaf and serve.
My husband loves to eat the oxtails in his stew.  If you don't have anyone
who loves meat that much, fish them out as well, and you can cut off the
meat from the bone and add it back into the stew.