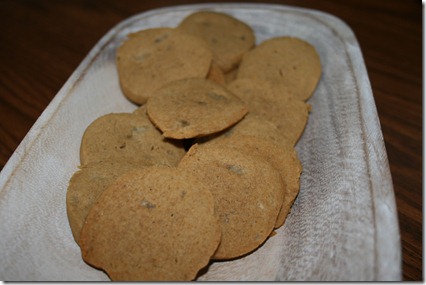 I'm in love with these cookies!
They are flavorful and crunchy and PERFECT!
I do not remember where I got the recipe- if you recognize them from
your blog let me know.  I'd like to thank you profusely for sharing the recipe!
I have a log in the refrigerator and I've been making a dozen a day.
If I made more, I'd eat more.
Here's a great recipe for wonderful tea cookies!
Ingredients:
1 1/2 sticks butter
1 cup brown sugar
3 TBS molasses
1 TBS hot strong coffee
2 3/4 cups plain flour
1 tsp baking soda
1/2 tsp ground cloves
1 tsp ground cardamom
2 tsps ground ginger
1/4 tsp ground black pepper
1/4 cup chopped candied ginger peel
Method:
Cream together butter and sugar, add coffee and molasses, and
mix well.  Sift dry ingredients together and add to wet mixture.
Stir together until you have a smooth soft dough.  Knead  3 times
on lightly floured surface. 
Refrigerate covered for at least 1 hour.
Either make into a roll and slice or roll out thin and cut into
shapes.
Bake at 350 degrees F for 8-10 minutes and cool on wire rack.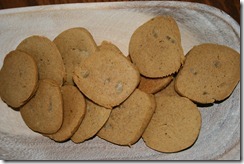 Careful- they are addictive!