33-40 God, teach me lessons for living
      so I can stay the course.
   Give me insight so I can do what you tell me—
      my whole life one long, obedient response.
   Guide me down the road of your commandments;
      I love traveling this freeway!
   Give me a bent for your words of wisdom,
      and not for piling up loot.
   Divert my eyes from toys and trinkets,
      invigorate me on the pilgrim way.
   Affirm your promises to me—
      promises made to all who fear you.
   Deflect the harsh words of my critics—
      but what you say is always so good.
   See how hungry I am for your counsel;
      preserve my life through your righteous ways!
Sometimes, staying the course is really hard.
Sometimes, it is downright scary trying to travel
God's freeway.
You are holding on, white knuckled, to the wheel-
and the Nor'easters of life are blowing hard against you.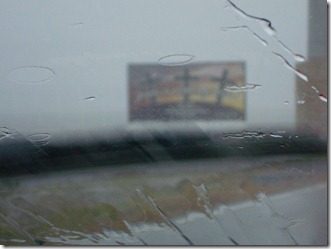 But you look over and the signs point to the cross.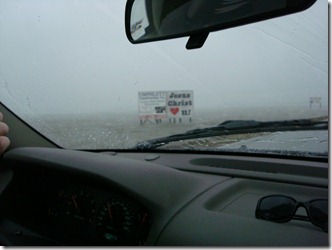 And in the midst of the storm-
You are reminded that Jesus Christ loves you.
That is such a wonderful truth that the storm passes over-
and you are back on solid ground.
And somewhere between the Psalm and Chincoteague, you
have affirmed that this is the highway- or should I say that
God's highway is the one we can always love traveling on!
(a special thank you to Allyson for her fortitude and courage
in doing the actual driving in these photos!)