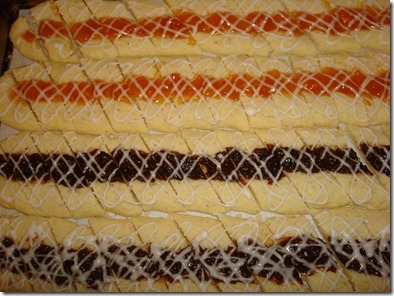 I made a lot of cookies in the month of December.
Tomorrow is the last day of this month and I took an inventory of what I have left.
NOT MUCH!
We have been eating around the edges of what I didn't give away.
I gave most of them away in cookie sampler bags.
All in all- around 25 bags of some yummy good samples- at least 2 dozen cookies in each bag-
That is a lot of cookies!
I have some left- about 6 dozen.
But I don't have any of the Finnish Ribbon Cookies left.
I know because these are one of MY favorite cookies-
and they are all gone.
So I'm going to make some more in January.  And keep them in a tin.
Here's the recipe if you'd like some, too!
(I don't KNOW for certain if these are genuinely Finnish- I got the
recipe from a copy of Southern Living Magazine many years ago.)
Finnish Ribbon Cookies
Ingredients:
1 cup butter or margarine
1/2 cup sugar
1 egg yolk
1 tsp vanilla
1/2 tsp lemon peel
2 1/2 cups flour
1/4 tsp salt
6 TBS preserves ( raspberry, apricot, fig- whatever you choose.)
Method:
Cream butter (room temperature) with sugar, add yolk and vanilla and mix until
light and fluffy.  Add salt and lemon peel to flour and mix into  butter mixture
cup at a time.
Divide dough into four portions and roll out onto parchment paper into long rolls.
Using pencil or wooden spoon handle or chop stick- make furrows down
each roll and bake for 10 minutes in a preheated oven at 375 F. .
  Allow to cool on pan, then spoon your favorite fillings into the
grooves and cut on a diagonal.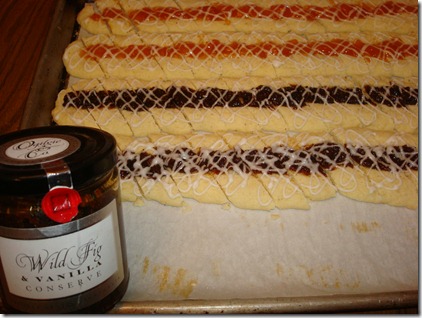 Decorate with thin glaze drizzled on top and deal gently with them
when taking off baking sheet.  They are prone to break. 🙂
And then you can eat them without guilt.
Broken cookies don't have any calories, do they?