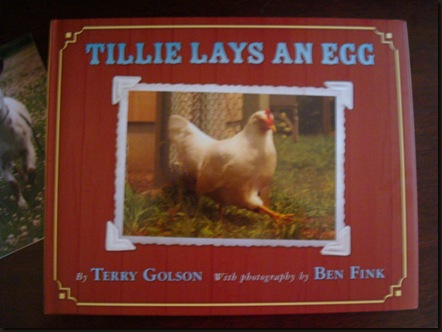 Have you read this one yet?
Why do I love children's books so much? They fascinate me. I love the way they stick to the subject- without any preaching or attitude- and take you for a short excursion into an alternative life and then gently release you back to your world.
I won this book in a giveaway at Suzanne McMinn's Chickens in the Road blog. Suzanne is a fairly new farmer in West Virginia and her blog reflects her lifestyle.
This book was written by another small farmer and cookbook writer, Terry Golson. Terry has a blog also and on her website, www.hencam.com. you can see her hens ALL DAY LONG! So if you like chickens- go take a look!
But back to the book. It is a simple tale about 7 chickens and 3 nesting boxes. The hens are supposed to take turns. But Tilly isn't a patient chicken and she likes to do a little explore about the farm. This leads to surprises and a little searching of the photographs. Speaking of photography- Ben Fink does the illustration in this book and he is fantastic. If just once I could take a picture that looked half as good as his- I'd call myself a photographer.
Published by Scholastic Press and selling for $16.99 in the US- this would make a fine gift for children with an interest in real life photography and searching for an object within the picture. And for adults who like a well written and presented read with the little ones in their lives.
OR just look in the library- it is worth the time spent looking for it!