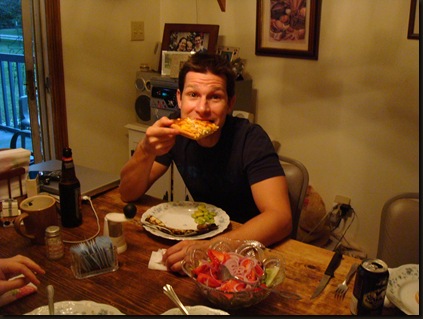 Not green eggs and ham.
Would you eat green salsa and chicken pizza?
You should give it a try –  it's really yummy!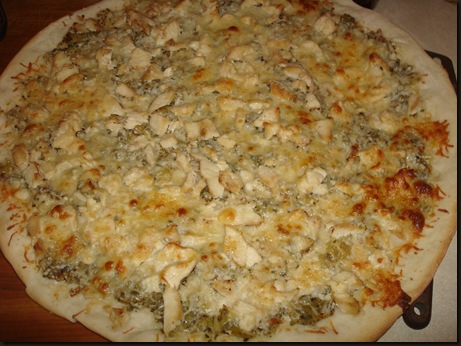 I started off making a salsa verde, the recipe is here. And then I made a pizza dough- you can use your favorite recipe or… use this one.
Ingredients:
5 cups bread flour
2 tsp sea salt( or less- I like the salty yeasty,EVOO flavor)
1 1/2 cups warm water (105 F)
1 1/2 TBS yeast
1/4 cup good quality olive oil
Method:
Proof yeast in half cup of water- you can add 1/2 tsp sugar to expedite this step.
In large bowl stir salt and 4 1/2 cups flour together and make a small well at the bottom of the bowl. Add warm water, olive oil and stir the flour just enough to moisten it, then add the foamy yeast and mix thoroughly with a wooden spoon . You may need to add a little more liquid at this point- the dough should be soft and slightly sticky.
Dust surface of counter with remaining flour and dump dough out. Knead for at least 10 minutes until dough is smooth and pliable. You may need to add a handful of flour – but not enough to dry out dough. Smooth , pliable,and slightly sticky is the description of what you want at this point. Then form a ball and place in bowl that has been oiled, cover with plastic and let raise at least an hour til double in size. Now! Punch the dough down, knead gently for at least 5 minutes and let raise a second time until doubled again (around 45 minutes) this second raise is what gives the dough that stretchy, yeasty, Italian flavor. Don't skip it!
At the end of second raising, shape into desired bread or roll out (or toss) for pizza. Allow to raise about 1/2 hour and bake at 350F until golden brown.
Next grill a large chicken breast.  I rubbed it with cumin and garlic and lemon pepper and then drizzled some olive oil on top and grilled it about 5 minutes each side.  Then tear into pieces if you are feeling a little aggressive, or just chop it into small pieces.  Smear the salsa verde over the pizza crust, sprinkle the chicken on top and add your favorite cheese.  I used mozzarella, romano, and Parmesan.  Drop some pepper rings or olives- or whatever you prefer on your pizza and bake at 375 degrees F for about 20 minutes or until golden brown.
This is really good pizza- and a nice break from red sauce.