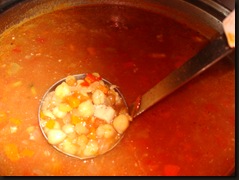 First of all, my house smells delicious!
I am making a Chicken, Lentil and Garbanzo Bean Soup that I found here.
It is called Moroccan Spiced Lentil Soup.
The first time I smelled sesame oil cooking , I thought it was strong and overpowering. Now, my taste buds have educated my nose and it makes my mouth water! I substituted sesame oil for the olive oil in this recipe because I like sesame oil with these ingredients better.
On a different subject, that still concerns scent;
I have found enough Lavender wands to share with everyone in last week's contest. Unfortunately, I don't have the funds right now to send them all in the mail. So, if you want one and can come get it or would pay for the postage and handling, you may certainly have one!
These are available on a first come- first serve basis.
Cynthia already picked hers up.
Some of these are from last years harvest, so they are already quite dry- but since the lavender is tucked up inside the wand, if you roll them gently between your palms, the scent comes wafting out quite happily!
And- on a different subject altogether-
I started knitting again.
I have been so bad.
A friend of mine asked me to help her finish a purse project last year, and I just this week did it. SHAME!!!
I really wanted to help, but I couldn't even get my head into the idea of knitting at that time. I am a binge knitter. All or nothing.
One time I made 50 scarves in a 2 week period. I just sat there knitting all day.
I had so much else to do, but I couldn't STOP KNITTING!
Anyway- enough confessions.
But, as I said, I'm starting to knit again.
What crafts are you addicted to?