I am not a real fair kind of person.
I'm not saying I'm not fair-:) – I just don't like going to fairs.  They are hot.  They are noisy.  There are too many people and the food is NOT good for me.
But- I am now a grandma- and I do all sorts of things I wouldn't have done before.  I do things with great enjoyment because I get to see them for the first time again through my grandson's eyes.
Saturday, last, I went to the Ohio State Fair for the first time in 44 years!
My impression from when I was 12 was that it was hot and noisy and there were too many people. ( At least I'm consistent!)  And I also remember a lovely cart filled with lavender for sale at $4 a cup.  I think Robin (my sister) and I had $5 each for spending money and we each bought a cup of lavender.  It was so fragrant and cool- and we had never seen it is such abundance before.
But I digress- this year we went as a family.  Grampa, Jordan, Luke, Willow, Aidan and I all went and had a grand time.  The fair grounds weren't too crowded early in the day, and by the afternoon it started to rain lightly which kept the crowds down.  We skipped most of the rides altogether, Aidan is only 2 and does not like rides yet.  We tried to get him to go on the umbrella ride that is like a sky ride going to the very end of the fair.  "No", he said, "that's too high."
So, my husband and I went on the ride by ourselves and left the younger people to walk the distance while we had a bird's eye view.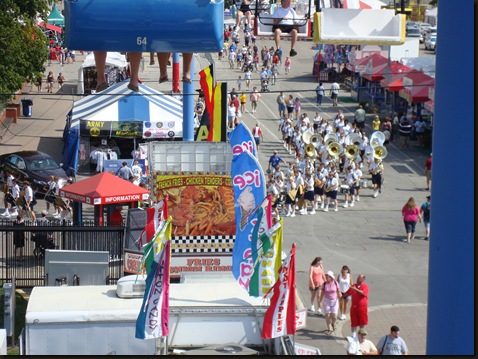 There were marching bands and music- and lots of deep fried foods.
(twinkies , oreos, bananas,pickles,mushrooms,cheese,peanut butter and jelly sandwiches, and on and on)  There was also bacon dipped in dark chocolate, but I didn't try any of the more "exotic" offerings.
We had french fried potatoes, barbecued pork ribs, chicken fried tenderloin sandwiches, a gyro roll and ice cream.  Mostly we just bought one of each and shared.
But , by far, the best part was the farm building displays. They had a train set up that Aidan loved.  We could have stayed there for an hour and he would have been happy.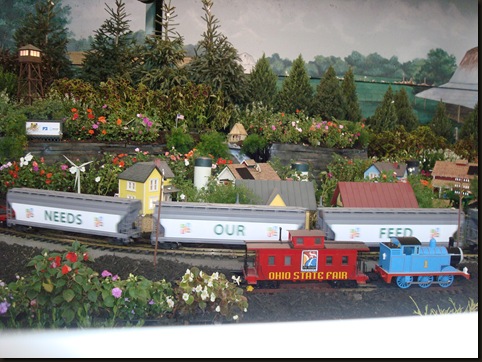 He pressed his little face into the fence surrounding the booth and kept it there.
Not moving, not talking, just watching the train go round and round the bend.
I think I know what he will be getting for Christmas this year.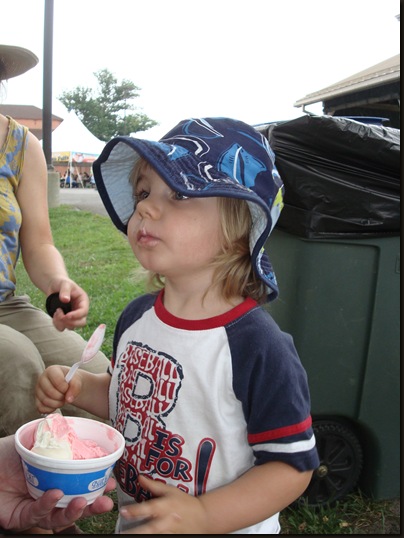 And then- after lunch- there was ice cream.
Aidan is a healthy eater.  His parents don't indulge in many sweets.  So this was a real treat!  He wanted me to hold the ice cream – and he to hold the spoon(s).  Just prior to this picture he was holding two spoons.  The expression on his face is because I took one of the spoons away and said he should just eat with one.
It was already raining by this time.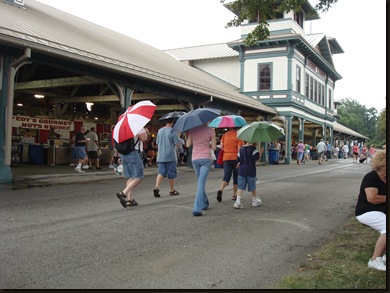 The umbrellas were sprouting all over the place- and we decided we had had enough of the fair.
It had been a long day, already, because we started off at a Farmer's market that morning.  We bought lovely vegetables, fresh ground rye flour, flowers, a hot pretzel for snacking, and corn.
We bought lots of corn.
Which was a good thing, since the cat decided these were hers!
Anyway, I decided that I might be a fair kind of person, after all.
Which is also a good thing, since I now have more than one grandchild-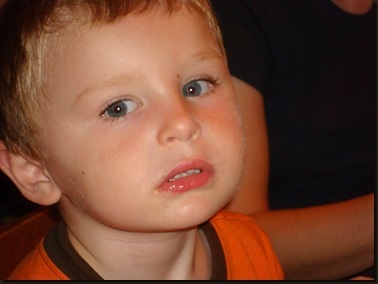 my Other Aiden!
And another on the way!