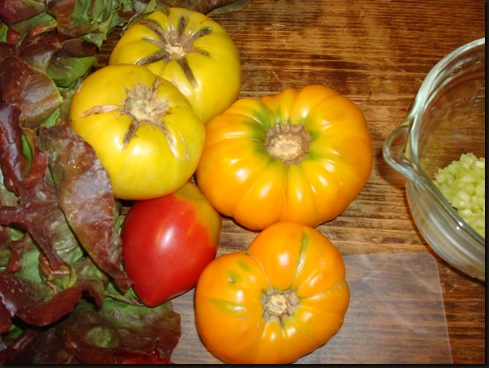 Growing up in the greenhouse business, I didn't get a lot of exposure to heirloom tomatoes. Our business was to sell the best growing and producing vegetables- and in the late fifties and sixties (1950's-1960's) that meant hybrids. We had Marglobes and Rutgers, Jubilee, Big boy, Early girl- all hybridized to give large, virtually seedless, and consistent fruit. The idea was not to preserve the past, but to improve the tomato!
That has changed in these times of organic, local, and heritage vegetable consumers. Now there is a great emphasis on the old stock of tomatoes and there are businesses that only sell heirloom seeds – which I like- but there is also the question on the use of these tomatoes- some of which have strange shapes that make cutting difficult.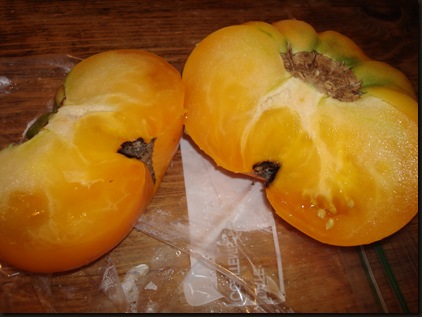 There is also the dense center vein and the blossom cavity at the bottom of the heirloom beefsteak tomato that makes using them a challenge.
Cutting these areas out greatly diminishes the usablility of the heirlooms- you sometimes end up with only half of the vegetable that can be used in a recipe.
I have found that the flavor and the historical romance is worth the inconvenience of the waste- and have found a way to utilize even the "wastage" by cooking them up into a sauce that can be used in soups or spiced up with herbs, onions and garlic to make into a pasta sauce. If you are making a salsa, use the pretty part of the tomato for your recipe and save the cut away portions to cook down later.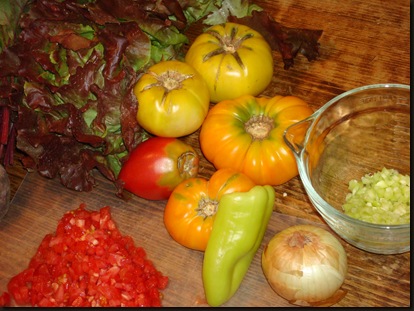 For this salsa recipe, I used these tomatoes, pepper, and onion.
Normally, I would use jalapeno peppers, but this yellow pepper was supposed to be sweet- and when I cut into it to use for a different recipe, the veins and smell told me otherwise. One touch of my finger to my tongue gave the secret away completely- HOT!!- very HOT! So I decided to use it in my salsa!
I had two red tomatoes and many more orange and yellow- so my salsa is more in shades or yellow, orange, green and red- rather than the typical red and green variety.
Ingredients:
1 large hot pepper, or several small jalapeno peppers, diced small
3 or 4 tomatoes, chopped
1 medium sweet onion, diced small
1 large handful cilantro, chopped finely
juice of 1 lime
salt and pepper, to taste
Chop everything up to a uniform size- I usually leave the tomatoes slightly larger because I like a bigger bite of tomato.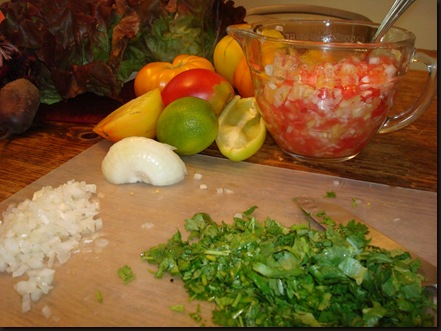 Mix vegetables up together, add juice and stir well.
Get out a tortilla chip and taste, add salt and pepper according to your pleasure- and enjoy!
Save up your tomato scraps until you get at least 1 1/2 cups (or you can supplement with a whole tomato to expedite your sauce) and then cook down in a saucepan with about 1/2 cup water added. Add oregano, basil, garlic, sauteed onions, balsamic vinegar, salt, pepper to taste and you have a fresh made pasta sauce. Bring sauce to a slow boil- bubbles will form and pop slowly within your sauce and it will thicken slightly after being reduced- about 1 hour cooking time.
( If you like, you can run the sauce through a sieve to get the pulpy and dark tomato parts out- but they aren't really noticeable once it is all cooked down and I usually let them add to the slight texture of this homemade sauce.)