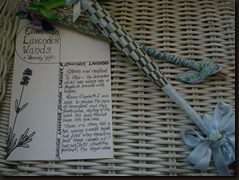 So far, 4 people are eligible for the drawing- Elizabeth,Kim,Cynthia and Lilly-you are still welcome to comment (please continue- I like hearing from you!)- but you are all in the drawing as of today!
Martha and Jill need to comment once more to be eligible. I am open until Friday, midnight. Then I am going to pick a name out of a hat and let you know on Saturday who won!
I'm still looking for anyone with lavender they aren't going to harvest. If I find some I'll make more wands for all of you. Anyway- just thought I'd let you know where you stand.