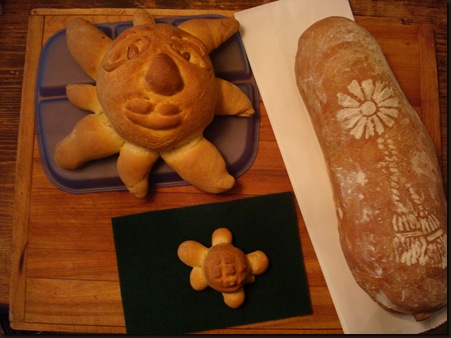 I made saffron bread with a sourdough base today.
It was a beautiful dough- silky and easily managed- just right for shaping- the sun face came out just right- I love the almonds in his eyes.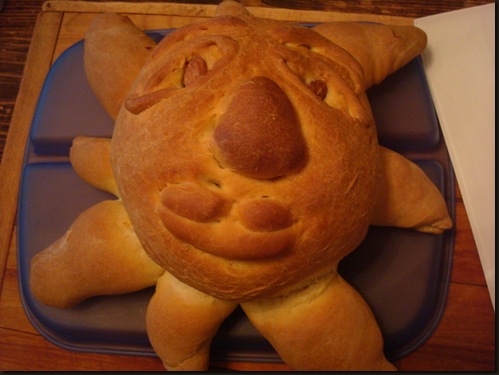 The turtle- well, I forgot to put in currants for his eyes, so he is blind- but cute.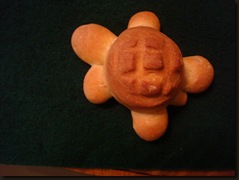 And small- he fits right into the palm of my hand- a perfect size for my grandson.
And following Joanna's example @ Zeb Bakes , I stenciled a loaf, just to look pretty.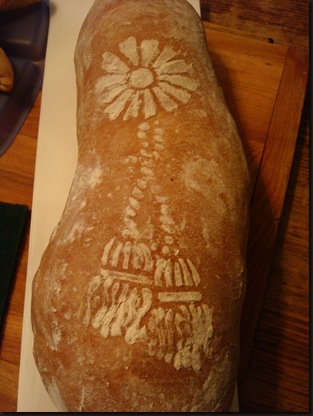 And it does look pretty-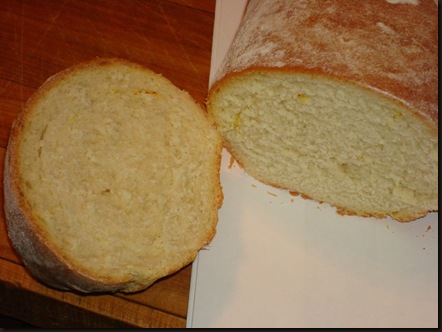 and the texture is light and the crust chewy and the flavor is just plain yummy!
I started this bread last night-
here as best as I can remember is the recipe, if you are interested.
1 cup of sourdough starter
2 cups plain flour
2 pinches of instant yeast
1 cup hot water
This is for the sponge or poulish as Joanna calls it. Stir well with wooden spoon and cover with plastic wrap. Place in draft free area and allow to raise overnight.
The next morning add:
3 cups flour
2 scant tsp sea salt
1 cup milk, scalded
1/2 stick (1/4 cup) butter
1 large egg
1/4 cup sugar
2 pinches of saffron
Method:
While milk is still hot, melt butter in it, add two pinches of saffron and stir well, set aside, beat egg and add to milk when cooled.
Add dry ingredients to 1 cup of flour and mix into sponge alternatively with liquid. Mix well, adding additional flour until dough is quite stiff ( you may need more flour than listed). Dump out of bowl and start to knead.
Knead dough for at least 8-10 minutes. If is is too stiff at first, allow to rest on the cupboard, covered, for at least 20 minutes to relax and then try again.
When dough feels smooth and pliable, place into greased bowl, cover with plastic wrap and let raise until doubled- this could take up to 3 hours depending on the warmth, humidity,age of starter and many other factors.
When risen, dump from bowl and divide dough for your shaping purposes.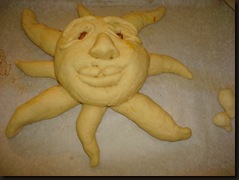 I used a little less than half to form the sun.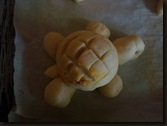 about 6 1/2 ounces for the turtle,
And the last half for the loaf.
I used a stencil and olive oil spray to design the stenciled loaf.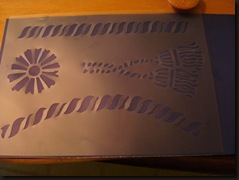 I used a precut stencil and lightly sprayed top loaf of the bread with olive oil.
Sprinkle flour into stencil cut outs and remove carefully.
Allow to raise again, about 1 1/2 hours
Bake at 350F for at 30 minutes, until golden brown.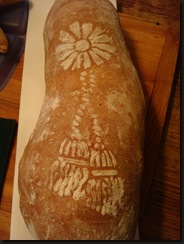 I think it turned out quite well.