I'm not suggesting that this is a healthy alternative, understand.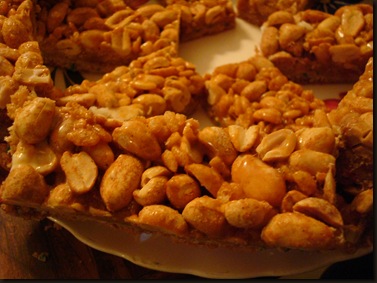 I mean, really, just look at them. They must be evil on many levels.
But when you make it yourself , you don't include ingredients you can't vouch for or pronounce. Or at least I don't.
And actually, I'm going to give you my new and improved rendition of these bars, because the first ones I made following a recipe, they were too rich and thick and full of the dreaded corn syrup.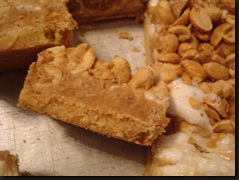 and marshmallows.
They are still rich, and they have some corn syrup, but I cut down on the amount and also on the marshmallows and made them in a much larger pan, so there is less cake bar bottom.
Here is the recipe- they are really quite good- especially if you are sending them in a bag lunch or to a gathering with a lot of young people.
Base layer:
Yellow cake mix
1/3 cup butter
1 large egg
3 cups mini marshmallows
Mix together and press into the base of a jelly roll pan (at least 11×15) or into a 13×9 and an8x8 inch pans. Bake at 350 degrees F for about 12 to 15 minutes- pull out of oven cover surface area with marshmallows and put back into oven for another 3 minutes.
Topping:
1/4 cup corn syrup
1/3 cup honey
1/4 cup butter
2 tsp. vanilla
12 oz package of peanut butter or butterscotch morsels
2 cups Rice Krispy cereal
2 cups salted nuts
Put corn syrup, honey, butter and vanilla in saucepan and cook over low heat until melted, add morsels (peanut butter or butterscotch), and stir until this is all melted and just starts to bubble (low boil).
Add rice cereal and coat it with mixture, then carefully spoon it on top of marshmallow layer on the cake base. The marshmallows will be all melty and it takes a little care to keep it from becoming a gooey mess. Now shake the peanuts or whatever nuts you decided to use – evenly over the top and push them into the rice krispy layer with the back of a spoon.
Cool, and cut into bars.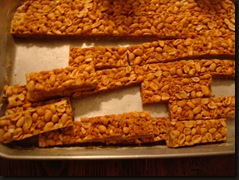 They are really delicious.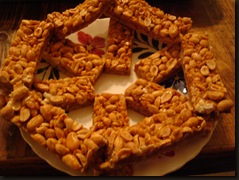 These long and thin bars are the healthier of the two pictured above.
I cut down the amount of yellow cake base, and the amount of corn syrup in half.