I borrowed this idea from Celia at Fig Jam and Lime Cordial.
It is fun to have a look at other's interests and gadgets (I LOVE gadgets!)
In my kitchen
…I have all kinds of wooden utensils .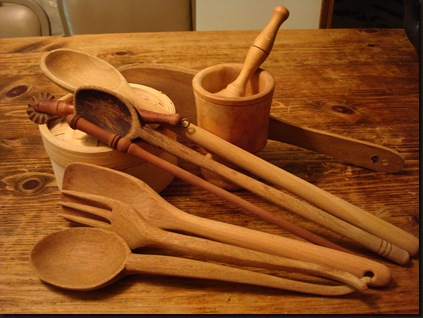 Peels and steamers, pastry cutters, spoons and a couple mortar and pestles,
I didn't put any rolling pins into the picture, but I love my kitchen wand in the center of the wooden spoons- the handle has been turned on a lathe and the end is just long and thin- it's so great for stirring in skinny spaces.
In my kitchen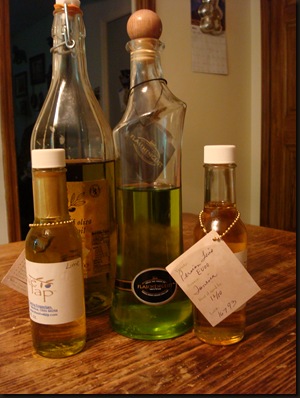 there are oils – EVOO, sesame, rice, grapeseed, and flavored oils of Peruvian lime, basil, lemon- most of them in beautiful glass bottles!
In my kitchen
…are glass measuring cups and glasses.
In my kitchen
…is fresh ground Indian cornmeal- and corn pudding.
In my kitchen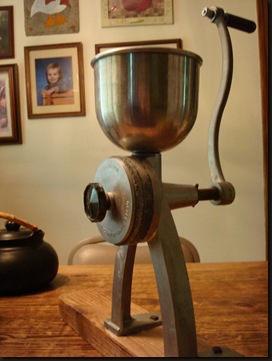 …is a hand worked stone grinder. I use it for whole wheat berries- but I'm going to see how it works on corn.
In my kitchen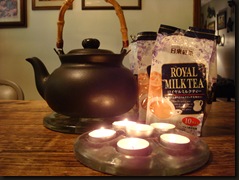 is a wonderful tea pot and a generous supply of Royal Milk Tea
(thanks to Meredith!).
In my kitchen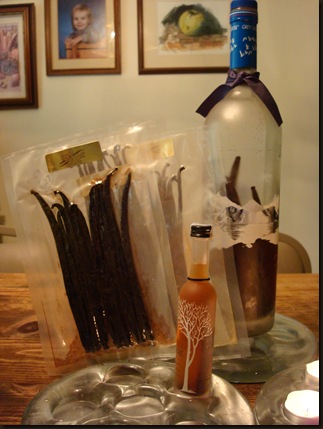 …are packets of vanilla beans and homemade vanilla.
What is unique and fun in YOUR kitchen?